By Gregg Ellman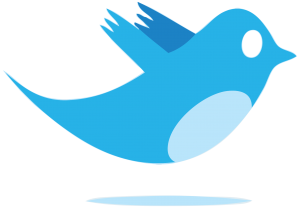 @greggellman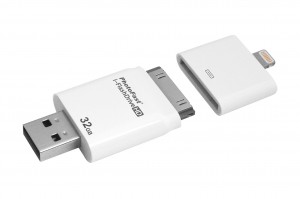 At a quick glance, you'll think the PhotoFast's i-FlashDrive HD is just another flashdrive and it is, plus a whole lot more.
While one end of the drive is a standard USB connection, the other has an Apple 30-pin or lightning connection for your iPad, iPhone or iPod touch running iOS 5.1 or 6.1.
This essentially gives the iOS devices with the USB port many users crave to get content on and off.
The pocket-sized device, about 2 inches long, is built with internal memory in choices of 8 ($99.99), 16 ($149.99), 32 ($199.99) or 64GB (323.17) to store digital files.
It's Apple certified, doesn't require a battery or charge, and can be used with secured file encryption for keeping specific files private. Video can be played directly from the drive, which can also be used to backup valuable contact lists.
Other features include editing, deleting, renaming and direct Airplay streaming.
With the iOS connections, data can easily be shared on the iOS portable devices using the i-FlashDrive HD app (free) without the immediate need to connect to you computer.
The 16GB comes in two configurations, with and without Lightning adaptor, while the 32/64 GB models include the Lightning adaptor.
Transfer rates can vary depending on your device. It's rated to transfer at 10 MB per second on the USB side while the iPad 2 will go at 2.5 and the iPhone 4 1.5 MB/s with the 30-pin connection.
You can not use the -FlashDrive HD for charging or syncing.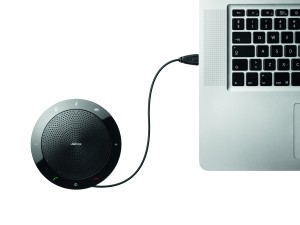 The Jabra Speak 510 is the latest Bluetooth speakerphone from the company, which includes wireless ($179.95) and a corded ($149.95) option.
There really isn't a lot to it; just pair it up with your smartphone (or tablet) like you would any other Bluetooth speaker for handsfree calls and functionality.
It's plug and play with a computer.Select it as your speaker in your system preferences for a Skype chat or listening to music.
You can even pair it with multiple Bluetooth-enabled devices with the ability to easily switch back and forth.
Either way, you'll be really happy with how it sounds along with how simple it is to set up.
You'll get about 15 hours of talk time before a charge is needed and there's a status indicator that shows how much power is left.
The round speaker is about 4 3/4 inches in diameter and is just 1-inch deep. Sound is delivered through a grill on the top so don't use it as a drink coaster.
Jabra supplied me with an interesting detail from a study: mobile workers in the will account for 75 percent of the U.S. workforce by 2015, This percentage makes a portable speaker like this is essential if your like me and in that group.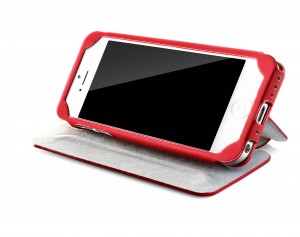 There still seems to be an endless line of new covers, cases and products for the latest round of Apple products, which will probably get old soon enough.
Case Scenario's Pantone Universe Bookcase is a high-quality iPhone 5 case, which has a protective front cover that doubles as a stand.
It's made with Nubuck material and folds open portrait or landscape handsfree positions.
You'll get access to all ports and plugs along with the touchscreen.
www.case-scenario.com $39.95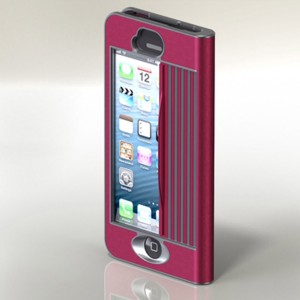 TopKase has launched the Aegis Series of iPhone 5 cases, which include a stylish anodized aluminum design.
It features a a really cool sliding shutter to open the touchscreen LCD, similar to an old roll-top desk, but when it's closed the screen is fully protected from dust, dirt and scratches.
A feature I've never seen in any other design has a microfiber cloth built on the inside of the sliding door to clean the screen every time it's open or closed.
For added protection, there are 8 internal shock absorbing silicon pads inside the case.
www.topkase.com $49.95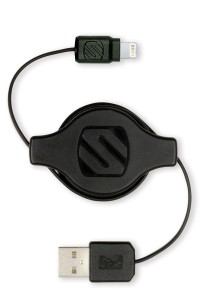 A big thank you goes to Scosche for being the first to finally have a retractable charging USB cable for the newer Apple lightning connection.
The retractable LINE PRO cable extends up to 3-feet or just 4.5-inches when it's not extended, making it perfect for travel.
www.Scosche.com $24.95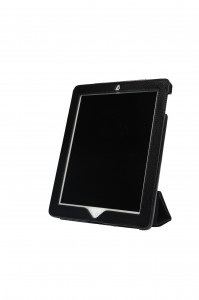 The Mapi Orion iPad case is made with 100 percent pure cowhide leather and has a strong rotating flexible stand to really keep the tablet in place in multiple handsfree positions.
A flip open cover has a soft inside to protect your screen and gives full access to your speaker, volume and charging ports.
The leather seems really well made and includes built-in magnets to help keep it open or closed. It does add a little weight to your iPad but the looks and usefulness make it well worth it.
www.mapicases.com $159.99 available in black, brown, red, tan, and white for iPad 2, 3 and the newest generations
Contact Gregg Ellman at greggellman@mac.com.
Follow him on Twitter: @greggellman.
2013, Gregg Ellman.