By Gregg Ellman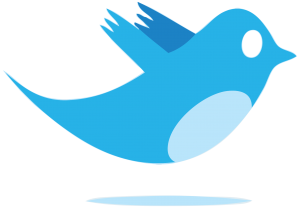 @greggellman
Hoodman, a company known for innovative camera accessories, has launched a Custom Finder Kit for Canon and Nikon DSLR cameras.
This accessory is a must-have for anyone owning one of these cameras and knows how difficult it can be to view the LCD in bright conditions or to see magnified details of an image or video.
The main feature of the kit is the rubberized H32 HoodLoupe eyecup along with the HoodMAG eyecup, which you put your eye right up to for viewing anything on your LCD (up to 3.2-inches) even in the brightest conditions.
Diopter adjustment (+/-3) is built into the loupe, which is made with German glass optics. All this adds up to an incredibly handy and glare-free way of viewing your camera's LCD in actual or magnified ratios.
A new innovative lightweight base plate, made of milled black anodized aluminum is included with the kit and mounts in seconds to the bottom of your camera's tripod hole.
The baseplate needs minor adjustments before attaching it to your camera and Hoodman has posted an easy "how to" video on there site, which I recommend watching before attaching it to your camera.
Once you have the plate mounted and the hood in place, the loupe can be adjusted or even removed with the turn of a knob.
A hex tool, which is needed for making some of the mounting adjustments is included and has a nice hiding place for storage on the plate so it won't get lost and is easily found when needed.
The bottom of the plate is equipped with additional tripod and ball-head holes, slots for shoulder or sling camera straps and other camera accessories.
Anyone who already owns a HoodLoupe 3.0 or 3.2 can purchase the custom finder base plate separately for mounting them together.
www.hoodmanusa.com   $199.99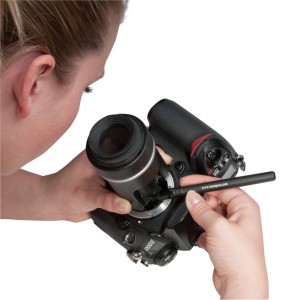 Digital camera sensor cleaning is challenging for many and LensPen, a leading sensor cleaning accessory maker, accurately describes the chore as "a tedious, time-consuming and nerve rattling experience,"
The company's SensorKlear Loupe kit is a perfect way for any digital camera owner to keep the digital sensors clean for crystal clear digital images.
Looking at your cameras sensor without a magnified loupe is virtually useless, but with the kits SensorKlear Loupe (6x magnification) you'll be able to see the unwanted dust.
Just remove the lens, place the loupe in the aperture ring, turn on its built-in light, which consists of eight LEDs, and examine your camera's sensor.
The loupe is powered by two AAA batteries (included) and is adjustable to fit any camera mount.
When you see the spots you want removed, first try the Hurricane Blower, which will most often remove dry dust..
If you encounter spots referred to as sticky dust, which the blower doesn't remove, that's where the SensorKlear II pen comes in.
The liquid-free pen touches the sensor directly through an access window on the side of the loupe so you can see and clean the dust at the same time.
Before using this or any other sensor cleaning kit, make sure you read your camera's warranty. Often damage done to a sensor during a warranty period will result in the warranty not being honored for sensor repair.
www.lenspen.com  $99.95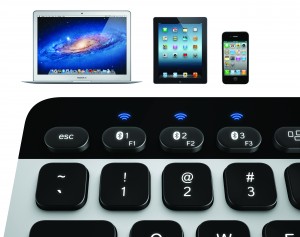 If you're a member of the Apple team with a Mac, iPhone and iPad then the Logitech Bluetooth easy-switch keyboard is a must have.
First off it's a portable Bluetooth keyboard, which is small enough to tuck into any laptop bag. But what makes it unique is you can instantly and easily switch between the devices.
Just pair it up as you do normally with each device and you can switch from one to the other with the push of a key on the top row. It's that simple, no need to turn a device off or disconnected the Bluetooth, just press the button.
In addition to how well it works, it's a great looking device to fit in the Apple family. It's built with a brushed aluminum body, backlit black keys and recharges with the included USB cable.
There's also a battery status light on the top to alert you if a charge is needed.
www.logitech.com  $99.99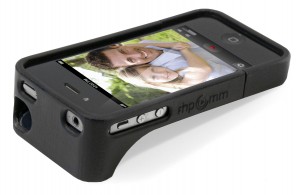 The MirrorCase for iPhone's 4/4S ($49.95) is designed to let you use the phone in a more natural horizontal mode when taking photos.
In addition to acting as a case, it has mirror on the front end just below the power button, which you aim towards your subject.
With the case you can put it down on a flat surface to aim it with more accuracy if you want to jump in the photo.
The case even helps using the phone to take photos when you don't want it to be so obvious.
A newer version is available for pre-orders for iPads ($79.95) and the iPhone 5 ($59.95) where the mirror rotates out in both landscape and portrait modes. When your not taking photos, the mirror folds back into the case.
www.mirrorcase.com  $49.95
Contact Gregg Ellman at greggellman@mac.com.
Follow him on Twitter: @greggellman.
2013, Gregg Ellman.