While the winners for the 2014 AVA Digital Awards won't be announced until Feb. 1, we're showcasing select entries that stand out. Keep checking back to see if your work will be highlighted.

Philadelphia should consider itself lucky to have such an innovative group promoting it. The nonprofit Independence Visitor Center Corporation (IVCC) in partnership with design studio Bluecadet Interactive transformed phlvisitorcenter.com into a state-of-the-art, interactive website that offers nearly everything for tech savvy tourists.
This site is user-focused and takes information listing to new levels by allowing guests to filter activities based on their preferences in the following four areas: part of town, highlights, price and interest.
Beyond that, the IVCC's hospitality is evident in the various ways it seeks to provide information to guests in a way that's most convenient and comfortable.
Like communicating via phone or in person? The phone number and address are in multiple places on the website. Prefer Twitter? There's a prompt encouraging sightseers to pose questions via a tweet without leaving the site. If you have several questions and can't get on the phone, perhaps the Live Chat feature is the way to go. There's also a FAQ page for common inquiries.
IVCC has also made phlvisitorcenter.com a one-stop shop, allowing guests to purchase attraction tickets online – you don't have to leave the website.
To top it off, all of these features are packaged in a beautiful, easy-to-navigate site. Did I mention it's mobile friendly, too?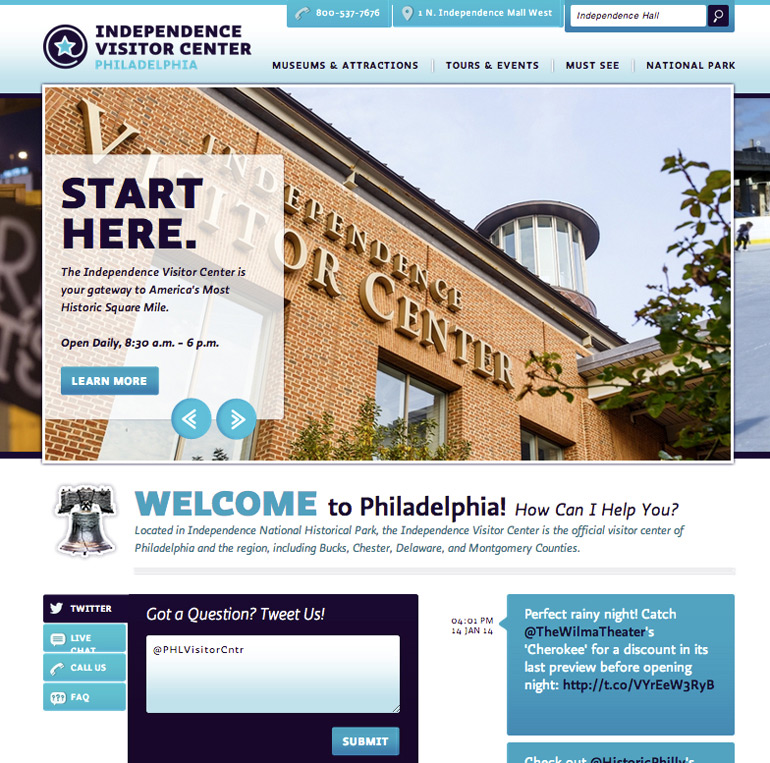 *****