By Gregg Ellman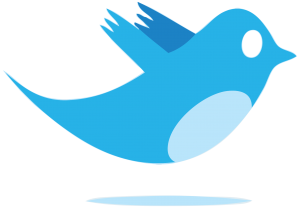 @greggellman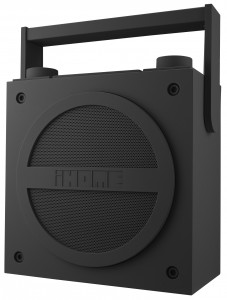 The iHome iBT4 boombox brings you back to high school days, at least for me.
After connecting with any Bluetooth-enabled device, music is streamed to the hand-held speaker.
The old school look, complete with dial knobs on top, makes you want to carry it on your shoulder with the moveable handle on the 3-pound device.
Inside the rubber-coated box are iHome's Reson8 speaker chambers along with an internal lithium-ion battery for up to 7 hours of sound, depending on volume levels. A universal AC adaptor is also included.
If broadcast radio is still your thing, there is a built-in FM radio you control on top along with a line-in jack for plugging a media player directly from it's headphone port.
As with every iHome product I've tested, this one once again falls into the same category as all the others; well built, easy to use and sounds great. Boombox are generally meant to crank up the sound and the iBT4 lets you do just that.
Oh, it's also reasonably priced for a portable Bluetooth sound system at $99.99
www.ihomeaudio.com available in purple, dark gray and neon green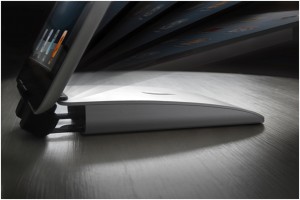 The iSider from Rain Design is one of the most useful and compact iPad/iPhone stands I've seen.
There isn't a lot to it, except that it works well. Measuring about the size of a smartphone (.5. x 3 x 1-inches).
The slick-designed device has an anodized aluminum cover to make a nice match with the iPad or iPad Mini. Under the cover is a base that slides out, which has rubber tips to protect your device from scratches when they are connected.
There's an opening in the bottom for your charging cable, if needed.
From there you adjust your viewing angle, which can go in landscape or portrait modes in multiple angles and attach to your iOS device.
With my Apple Smart Cover on my iPad I had it in portrait mode, along with a Bluetooth keyboard, as I wrote this column.
www.raindesigninc.com $49.90 and it includes a carrying bag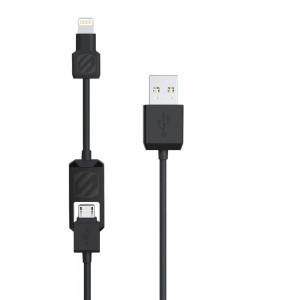 Scosche has unveiled seven new charge and sync solutions for both Apple's Lightning connection and microUSB-powered mobile devices, which are great for everyday use along with being travel-friendly. That eliminates the need for multiple charging cables for different devices.
Five feature a patent-pending 2-in-1 connector, which can be used to charge nearly any new smartphone, tablet and many other USB powered portable electronic gadgets.
Among them, the 3-foot long smartSTRIKE ($24.99) has the new connector to charge and sync both the new Apple Lightning connector devices and microUSB devices, all with one cable.
A retractable version of the same cable, smartSTRIKE PRO ($29.99), extends up to three feet with the 2-in1 connector on one end and USB on the other.
The strikeDRIVE PRO ($49.99) car charger has two 12 Watt USB ports to give you the fastest simultaneous charge possible for a pair of devices. It's built to utilize universal charging circuitry, which has been optimized for use with all tablets and smartphones.
The strikeBASE PRO ($39.99) is a dual five watt wall charger and the strikeDRIVE SMART ($34.99) is a tablet friendly, 12 watt low-profile car charger.
A low-profile design ensures that the charger fits neatly in most vehicles. This car charger utilizes universal charging circuitry that has been optimized for use with all tablets and smartphones. strikeBASE PRO ($39.99), a dual five watt wall charger for smartphones includes flush folding wall prongs for convenient portability.
www.scosche.com 
Contact Gregg Ellman at greggellman@mac.com.
Follow him on Twitter: @greggellman.
2013, Gregg Ellman.