By Gregg Ellman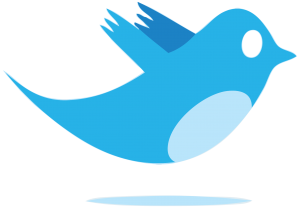 @greggellman.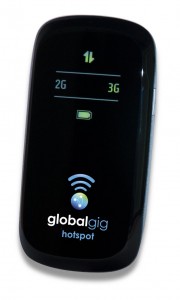 The Globalgig WiFi hotspot is a pocket sized device, which you connect your portable devices to enable them to have 2G and 3G broadband Internet access from just about anywhere.
The Globalgig charges via USB and works in seven countries around the world on various networks. In the United States it works on the Sprint network
The setup is pretty simple; just turn it on, choose Globalgig as your wireless network and add your own password.
Once the Globalgig is activated, you can connect up to five devices simultaneously to the hotspot.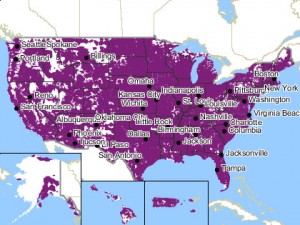 Unlike similar devices you can get from most wireless carriers, the Globalgig is available without a contract.
The device works great for web surfing and checking email and costs $119 for the hardware. Data plans start with a 1GB plan for $17 per-month and go up to a 10GB plan for $80 monthly.
A plan can be changed to higher or lower options up to 48 hours before the end of your billing cycle.
You can even log into the Globalgig site to keep track of your monthly usage and register for email alerts when you have used 50%, 85% and 100% of your monthly data plan.
If you choose to have an 18 month contract, you'll have the same monthly pricing options but the device is free.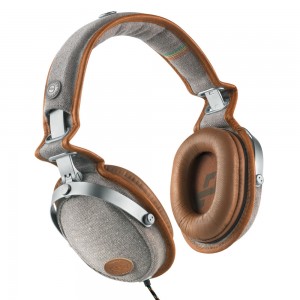 The House of Marley Rise Up over the ear headphones standout out from most any other headphones before you even plug them into a music source, simply because of the Eco-friendly design.
They are made with earth-friendly materials including bamboo fiber ear cups, recyclable aluminum and recycled packaging.
Each ear cup along with the adjustable headband have a unique denim covering in color choices of blue, saddle, caramel or camo.
A three button remote with mic is built into the 52-inch tangle free fabric cord, which has gold-plated connections for clear, crisp sound.
Once you get past the cool look and design, the sound you hear is just as impressive from the 50mm dynamic drivers for both music as well as phone calls. The padded ear cups are so comfortable, you'll forget you even have them on your head.
A canvas carrying case is also included.
www.thehouseofmarley.com $159.99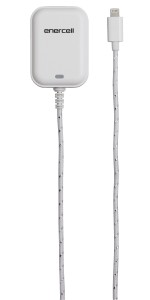 Apple only gives you a USB cable to charge the latest Apple iOS devices including the iPhone 5 and the iPad mini but the Enercell wall charger with lightning connector is another choice.
A 3.28-foot cord separates the wall outlet from the 8-pin Lightning connection. The wall outlet prongs even fold up to make it ideal for storage.
It's Apple certified for charging, features output over-current and short-circuit protection and is available in white or black options.
www.radioshack.com $31.99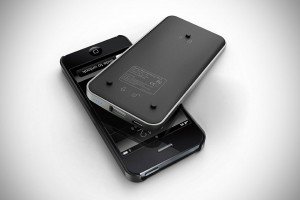 Unlike other battery cases for the iPhone 5, the iBattz Mojo Hi5 Powerbank can be attached to the back of it's case when a charge is needed or the battery can be left off.
A pair of identically designed cases are included with the 2500mAh battery; one black and one white. Each of them have three holes on the back, which are used to attach the battery.
After the battery is attached, plug your iPhone cable into the battery and your phone to charge it up. When your charged up, you can leave it attached to the case or take it off.
To power up the battery itself, it's charged with the included USB cable.
The battery, which measures 4 7/8 x 2 1/4 x 3/16-inches, has an aluminum unibody enclosure and can also be used as a free standing battery to charge up other USB powered devices.
A power indicator is built into the side of the battery.
www.ibattz.com $79.95
Contact Gregg Ellman at greggellman@mac.com.
Follow him on Twitter: @greggellman.
2013, Gregg Ellman.