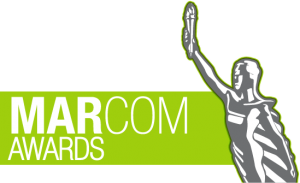 The results of the 2015 MarCom Awards have been announced. After you're done with your celebratory dance, what's next? Don't just sit on this international recognition – shout your accomplishment from the rooftops so everyone from clients to peers and journalists are aware of your top-notch work.
To help you get started with your promotion, here are a few ideas that hopefully won't end with your neighbors calling the cops about noisy office neighbors.
1. Make space on the company website & email newsletters
Carve out prominent space on your website to communicate your latest accomplishment. Even a small space on the homepage showcasing third-party recognition can give your team an instant credibility boost with potential and current clients. The same applies to email newsletters.
Design pros can take readymade graphics from our library – available in JPG, PNG, PDF and EPS formats – and create customized banners for a polished, personalized look.
If you're not a designer, fear not. We've got you covered, too. All the graphics look grand out of the box.