Throughout the years, AMCP entrants have submitted more than 2,000 pro bono entries. While that is a lot of work donated to nonprofits, we're sure it is only a small percentage of the time, money, effort and skill that our entrants give back to their communities. Throughout the next couple of months, we're profiling some of these people and sharing their stories with you in our series, Giving Back Through Marketing and Communications.
"It is a simple yet disturbing fact: you know someone who is hungry. One of your neighbors, friends, work colleagues, or someone at your church is struggling to put food on the table."
That's the opening sentence of Food Bank Alaska's 2012 annual report created by Mad Dog Graphx. Not coincidentally, the theme of the report is "These Are The Facts!"
Last year, Mad Dog Graphx won a Platinum Hermes Creative Award for the excellent piece. We caught up with Kris Ryan-Clarke, the report's designer, to learn more about the project and how Mad Dog uses its creativity and design skills to combat hunger in the nation's largest state.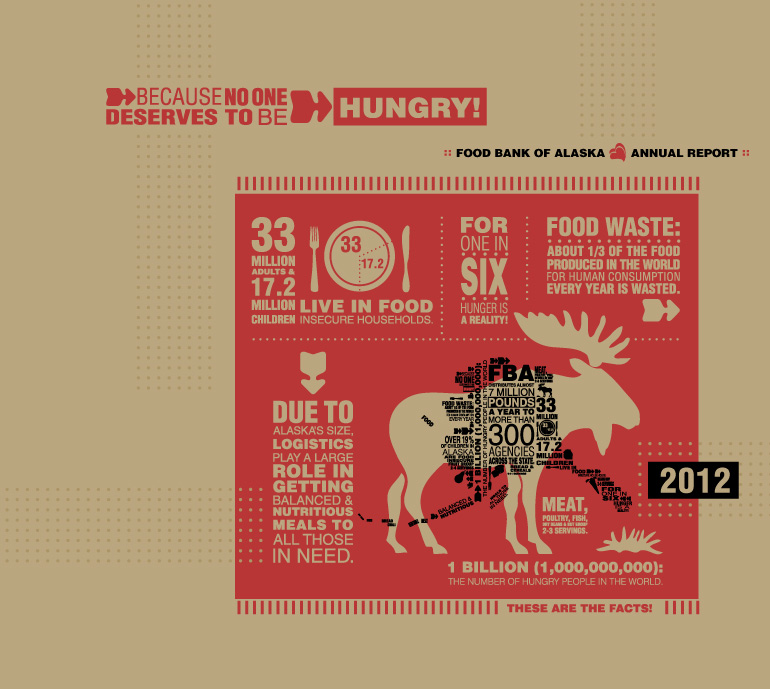 What is Food Bank of Alaska and how does it help people?
Food Bank of Alaska (FBA) is the umbrella organization that supplies food and support to agencies, food pantries, schools and soup kitchens around the state. In turn, these organizations supply food to those in need.
Due to the size and geographic characteristics of the state, FBA is faced with many challenges from transportation to maintaining a healthy food supply. The organization relies on federal and state grants in addition to corporate and individual donations to keep their operation open.
Their annual report is used as their primary marketing piece throughout the year.
How did you arrive with "These Are The Facts!" for the theme of the report?
The theme came about due to the fact that so much of the information I receive from FBA includes startling statistics about hunger. "These Are The Facts!" felt like a good tie-in and a way to get the hardcore numbers out in front of people in a straightforward manner. By using blocks of copy and an infographic format, I was able to illustrate what Food Bank of Alaska is faced with everyday as they strive to meet their mission that "No one deserves to be hungry."
What were some of the facts you found most startling?
Two facts that continue to surprise me are: (1) For one in six people, hunger is a reality; and (2) About one-third of the food produced in the world for human consumption is wasted every year. These are both highlighted in my design by incorporating them into the cover graphics.
How did you get involved with FBA? Are you working on anything else for the organization?
I became involved with Food Bank of Alaska 16 years ago when the then-CEO asked if I'd be interested in donating my time by putting together their annual report. I've been producing their annual reports ever since. Part of the appeal in taking on this project year after year is that I am given total creative license to create a compelling piece to illustrate the "faces of hunger" in our community.
Because Mad Dog has been so involved with creating FBA's central marketing piece each year, we have also been asked to produce ongoing marketing, branding, advertising and collateral work for them, including a new logo and their biannual newsletter.
Why do you continue to work with FBA?
Over the years I have been struck by the number of hungry people that live among us and have grown to realize it's not only the homeless person that is scrambling to get food but also everyday hard-working people who, for whatever reason, don't have enough money and are struggling to get food on the table for their families.
Hunger and food insecurity is such a prominent problem that donating my time and creativity feels like a good way to give back to my community in a meaningful way. It has been rewarding and satisfying to be a small part of the solution to ending hunger.
*****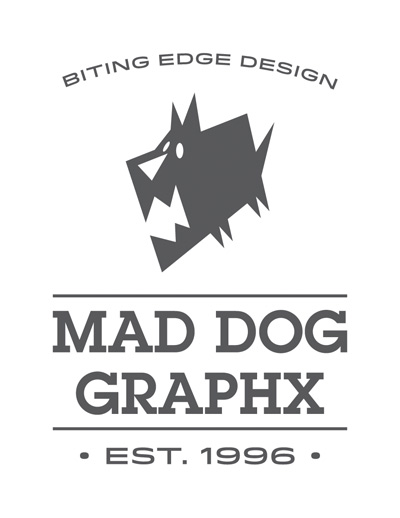 Mad Dog Graphx is a two-person design studio based in Anchorage, Alaska. Founded in 1996, Mad Dog offers a range of creative services, specializing in corporate and retail communications and brand identity development. Its work with campaign planning, advertising and marketing development, packaging, environmental graphics, annual reports, and logo design has attracted clients from restaurants and transportation firms to universities and Native corporations.
The company has been honored with awards from the Association of Marketing and Communication Professionals, Print magazine, Graphis, the American Advertising Federation, and many others. Its work has appeared in dozens of books and magazines on graphic design.