While the winners for the 2014 AVA Digital Awards won't be announced until Feb. 1, we're showcasing select entries that stand out. Keep checking back to see if your work will be highlighted.
Company: American Red Cross
Title of Entry: "American Red Cross"
Location: Lakewood, New Jersey
Category: 7c. Innovative Mobile Development
About the Apps

The American Red Cross was busy this year either rolling out new mobile safety apps or updating existing ones to create a resourceful collection of go-to tools. The apps not only offer steps to take after a disaster strikes but also try to help people avoid catastrophes altogether.
For instance, the organization's First Aid app provides users with step-by-step instructions for daily emergency situations such as burns, heat stroke and hypothermia. The application's content – both copy and video – is preloaded on the device, making it accessible even if users don't have Internet connections or cell service.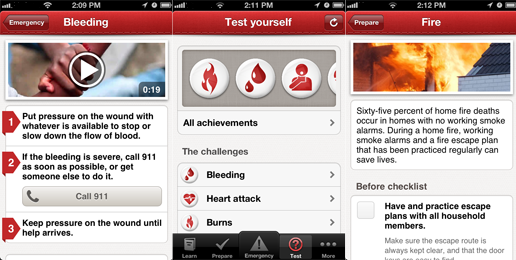 Additionally the app gives users tips to prepare for natural disasters and other emergencies and features an interactive quiz section to test a user's first aid knowledge.
*****
The American Red Cross' arsenal of mobile safety apps includes four applications that each focus on a different act of nature: hurricanes, tornadoes, wildfires and earthquakes.
Besides preparation tips for these weather events and instructions on what to do during and after the events (again, this content is preloaded), the apps feature notification alerts and, in the case of the Tornado app, an audible siren when the National Oceanic and Atmospheric Administration issues a tornado warning. The audible noise will reduce the chance of people sleeping through a warning.
The national disaster apps also have a customizable "I'm Safe" alert to send to family and friends across social media or through text/email and a map of all open Red Cross shelters. Moreover, the Tornado app includes a toolkit with a flashlight, strobe light and audible alarm.
Each app is available on both Apple and Android platforms:
The organization has published a plethora of information about the apps, making them easily accessible and displaying video demonstrations on their website.
Why This Stands Out
Here's what caught our judges' eyes about the American Red Cross apps:
Furthers the organization's mission of preventing and alleviating suffering in the face of emergencies.
Contains preloaded content since not all users will have cell service or Internet connection during an emergency.
Uses a variety of content (text, videos, maps, etc.) to educate users.
Interfaces with other features on a device.

Educational tests connect to Apple's Game Center.
Tornado app's toolkit includes strobe light, flashlight and audible alert functions.
Can call 911, text, email or post to social media platforms within the apps.
Useful to people of all ages and also engaging