By Gregg Ellman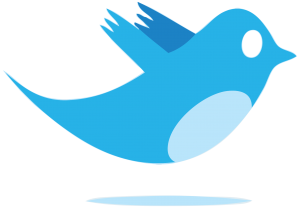 @greggellman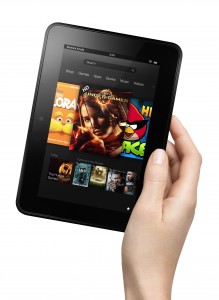 It doesn't take a genius to know that tablets will again be one of the top purchases this holiday season. Choosing the right one might take a little work if you're not just going with a popularity contest.
The Kindle Fire HD is packed with every feature you would want in a tablet, including a responsive touchscreen LCD, simple USB charging/connections and a size (7-inch model tested) that's big enough to see each function but small enough to pack for travel.
Everything you ask the Kindle to do, it does really well; email, web surfing and watching movies from endless choices at the Amazon store.
Dolby Digital Plus technology is built into the tablet, which is an advanced surround sound audio code designed for today's media devices.
Just put on a movie with a good set of headphones and you'll hear the difference in what is described by Dolby as a "cinema experience."
www.amazon.com $199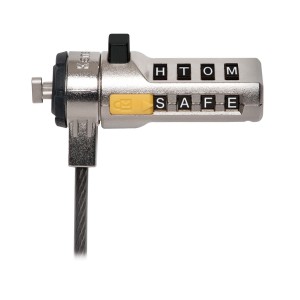 Kensington's latest portable combination laptop lock uses words, not numbers, as a security code to keep a laptop from walking away.
Most laptops have a security slot, which was created by Kensington and has become the industry standard, for the cable to attach.
Use is simple: just set a four-letter passcode, attach the self coiling cable around or through anything secure and attach the lock. The cable is just a few inches long when coiled up but stretches up to six feet.
Over 10,000 word combinations are possible with the lock.
www.Kensington.com $27.99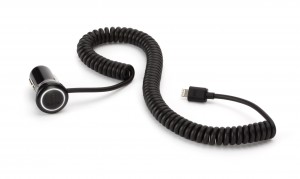 Keeping on the coiled theme is Griffin's PowerJolt SE coiled car charger.
What makes this one stand out among the millions of car chargers is that it is the first I've seen and available with the new Lightning Connector, Apple's 8-pin dock connection on one end.
A standard 12-volt outlet to deliver a 10-watt charging circuit is on the other end to plug into your car's charging port.
The strong coiled cable can stretch up to 4-feet and the device has a built-in, self-resetting SmartFuse, to protect your device from power fluctuations.
www.griffintechnology.com $22.99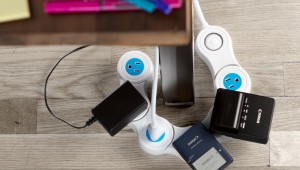 Quirky's Pivot Power Flexible power strip ($29.99) has six outlets, which can all be used simultaneously, regardless of how big or bulky your power supplies are that need to be plugged in.
The power strip is flexible, allowing it to stay in a straight line or curving to let several of the larger power adapters to be plugged in.
With its flexibility, you can curve it under or around desks or furniture for easy access to take plugs in and out.
A six foot cord is attached to the strip.
Another cool and useful computer accessory from Quirky is the Contort ($24.99) for connecting up to four USB devices into a single one on any computer.
It's built with a flexible neck, which allows it to take minor bumps without damaging your device and is built with cord management to wind up any excess cable from the connected devices.
www.quirky.com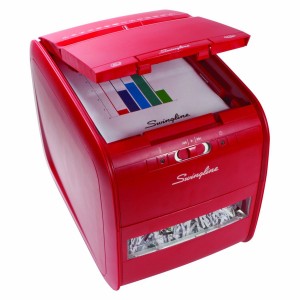 The Swingline Stack and Shred 60X ($139) is compact enough to keep under your desk but powerful enough for up to 60 sheets of hands-free shredding.
Once your documents are loaded into the paper tray, close the cover and rollers automatically feed the paper into the cutters for cross-cut and quiet shredding.
The shredded paper goes into a waste bin, which has a view window to see when it needs to be emptied.
Other models available are available larger amounts of handsfree shredding up to 500 sheets.
stackandshred.com available in red or black
www.Chroiclebooks.com
Contact Gregg Ellman at greggellman@mac.com.
Follow him on Twitter: @greggellman.
2012, Gregg Ellman.