While the winners for the 2014 MarCom Awards won't be announced for a while, we're showcasing select entries that stand out. Keep checking back to see if your work will be highlighted.
Organization: Asheville Convention & Visitors Bureau
Location: Asheville, North Carolina
Title of Entry: "THE SCIENCE BEHIND FALL COLOR: Travel destination immersion through digital storytelling"
Category: 129. Brand Journalism


Storytelling is an essential element in any medium, whether newspaper, magazine, television, radio, movies, or web. But in recent years, all these mediums have been converging. Today's outstanding storyteller utilizes the best parts of each and creates an interactive template on the web. A breakthrough in this new art form first came to people's attention in The New York Times.  The content was called "Snow Fall" and describes the harrowing experience of skiers caught in an avalanche. It was an immediate sensation in newsrooms around the country and among visitors to The New York Times website.
The Asheville Convention & Visitors Bureau wanted to create a similar stir for a different purpose. The Asheville area in the Smoky Mountains hosts one of the most magnificent fall displays in the country. The bureau wanted to herald its uniquely long and colorful fall foliage season through a new brand of journalism. The resulting web presentation mixes video, Google Earth, pictures, time lapse photography, text and autumn folklore with science to create an immersive experience.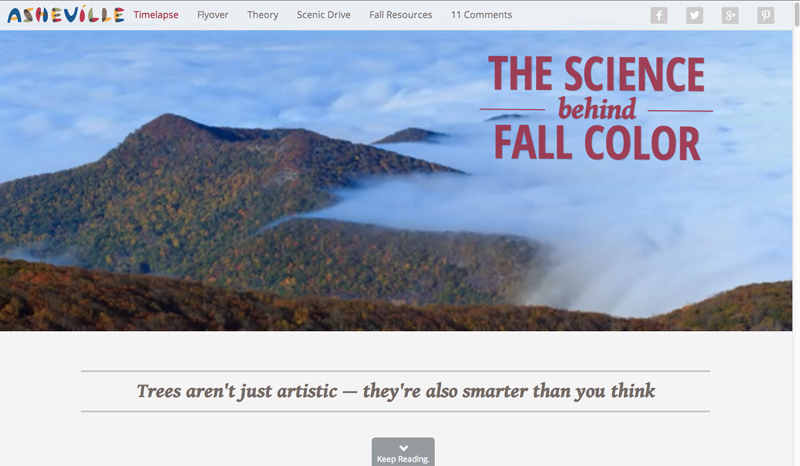 *****