AMCP is constantly getting calls and emails from people volunteering to be judges. Everybody wants to see what the great innovators and creators are doing. In recent years, it has especially been exciting to see the progression of digital development and interactivity. For years, we have enjoyed the groundbreaking work of Pacific Technology Solutions (PTS). Based in Irvine, California, PTS is a pioneer in developing learning technology for the automotive industry.
It wasn't that long ago that automotive training was revolutionized through the use of video. A mechanic at a local dealership could just pop the tape in the VCR and learn how to fix something. Today, Pacific Technology Solutions is developing web-based applications for eBusiness and eLearning software that can be experienced anywhere on a personal digital assistant.  And by the way, their training courseware and business systems are designed to incorporate in to and extend previous investments in IT and operational infrastructure. While the judges may not know what any of this is, they do know that the current training methods are far more graphic and easier to understand than the old ones.
In addition to being honored as one of the most prolific winners in MarCom Awards history, PTS' software applications and training courses have been used by global, Tier 1 OEMs such as Hyundai, Toyota, Honda, Nissan, Audi and Volkswagen.
To learn more about Pacific Technology Solutions, we asked one of PTS' principals and owners, Tony Rotundo, how his company is always prepared for technological advances and what's ahead.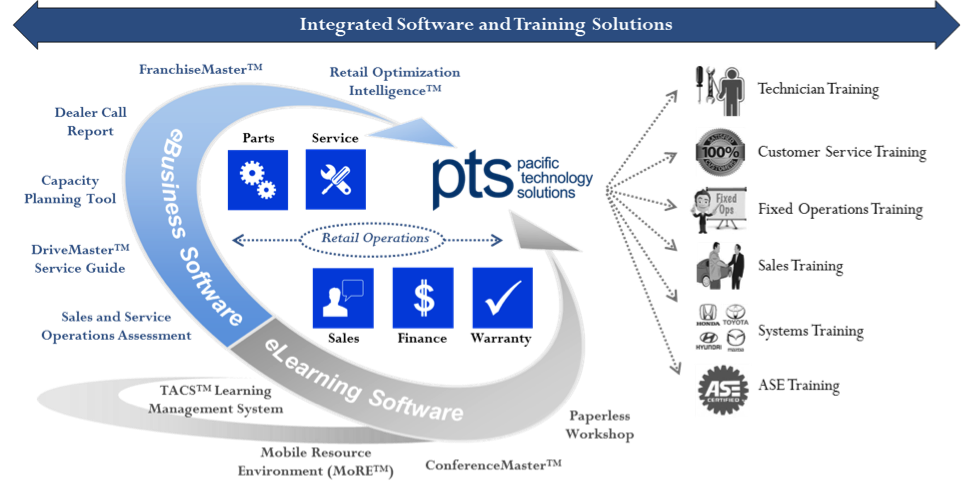 Tell me how Pacific Technology Solutions was started. Why focus on the transportation industry?
In 1996, the realm of personal technology, while still in its infancy, had finally matured enough to provide for real-world solutions for marketing, communications, performance improvement and training. Software development tools were within the grasp of well-trained individuals and no longer so challenging and esoteric to use. The opportunities to focus affordable solutions to an incredibly competitive industry seemed limitless.
The need for automotive companies to sell more, increase customer satisfaction and generate ever greater cost efficiencies was just beginning to enter a brand new era. Never before had customers had the opportunity to be as educated regarding the single most costly, recurring investment of their everyday lives. Customer satisfaction was significant in driving market share and sales. PTS evolved to fulfill the role of a solutions creator, technology guru and trusted source of how best to impact this new world.
How have your services evolved as the technology and media landscapes have changed since your founding in 1996?
Pacific Technology Solutions has, at our core, been focused on innovation. As technology platforms emerge, we have explored the relevance to our clients and introduced solutions that we felt might impact their operations. Everything we do is carefully designed and plotted out. From diskette-based solutions to CD-ROMs, web-based and now mobile and tablet, we've identified how a technology can best be leveraged.
When Microsoft introduced the first tablet specification in 2003, we acquired and evaluated how these might be utilized. With the incredible (for the time) personal computing power that Personal Digital Assistants (PDAs) brought to consumers in 1999, we developed apps that might be utilized. These were both failures due to inherent flaws in the fledgling technology underpinning them, but they set the stage for us when smartphones and tablets became mature technology drivers.
Fundamentally, though, our process is the same as when we started; it is our focus on innovation that keeps us focused on how to constantly and consistently evolve our services.
Tell me about your web-based training. What must-have elements do you incorporate into each training program to ensure it gets the job done?
Our focus is to design and build high quality eLearning that is engaging with high retention. Instructional design is always paired with graphic design and interactivity, 3d animations, etc. Each subject is carefully researched and just the right amount of detail is included to make the training comprehensive without being too granular.
Pacific Technology Solutions entries may have been the first interactive, technology based eLearning submissions that our judges ever reviewed. Throughout the years, PTS has probably won more awards from AMCP (106 MarCom Awards) than any similar company. How have you been able to sustain your success in a web-based training field that now has many competitors?
When we formed the company 18 years ago, we decided that creativity and innovation would be critical to our culture. I came from the world of commercial advertising and had the great fortune of making TV commercials for companies like Apple Computers, Coca Cola and Anheuser Busch. Working with incredibly creative advertising agencies like Chiat/Day inspired me to model PTS on that dedication to excellence in design and execution. Our focus is to be the very best at what we do and we have a great team focused on just that.
What's the one thing you want people to know about Pacific Technology?
It's not just the superlative quality of our work that counts – it's how we do it. The client experience is everything.
Any new services or projects you want to share?
We are very excited in the growth of our software division. The same dedication to quality of our eLearning solutions has been successfully translated over the last 5 years into a suite of powerful software products. In keeping with our global expansion we have an additional focus on providing our solutions in 9 different languages. This makes for exciting challenges!