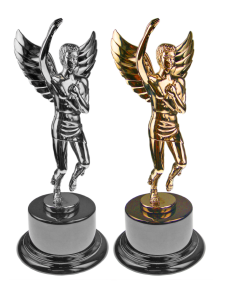 With the 2014 Hermes Creative Awards competition now open, soon AMCP will be showcasing entries that stand out here on the AMCP blog, much like we did with the AVA Digital Awards.*
Hermes Creative Awards is an international competition for creative professionals involved in the concept, writing and design of traditional materials and programs in addition to emerging technologies.
Winners range in size from individual communicators to media conglomerates and Fortune 500 companies.
The 190+ categories for the Hermes are classified into one of five major headings:
Print Media
Public Relations/Communications
Electronic Media/Social Media/Interactive Media
New Category
Pro Bono
To honor and recognize the generosity of the creative community, AMCP does not charge for entries produced pro bono for outside nonprofits; however only entrants who enter a regular piece in the competition are eligible to enter pro bono work at no cost. This is a perk for those who help defray costs of overhead, mailings, judging etc.
What are you waiting for? Enter today to prove you create award-winning work.
Get updates from us on Twitter, Google+, Facebook and LinkedIn.
*Hermes Creative Awards and the Association of Marketing and Communication Professionals recognizes that many entrants are adamant about not wanting their work displayed. Only those entries that grant permission during the online entry process will be considered for inclusion in our various public platforms. Otherwise, only judges will see entries. We can assure you that your privacy will be protected.