Company: Solstice Benefits
Title: "Solstice Benefits: Insuring Life's Happiest Moments"
Location: Plantation, Florida
Category: 1.1 Company-Sponsored Volunteer Project

Not only was Solstice Benefits a sponsor of the 2013 Broward Heart Walk benefitting the American Heart Association but the dental, vision and life insurance provider skyrocketed past its fundraising goal of $15,000, collecting more than $26,000 for the race. To date, the 100-employee company has raised more than $100,000 for the AHA.
Why the AHA? Since Solstice is a healthcare company, its employees are committed to raising awareness about the important correlation between oral health and heart disease.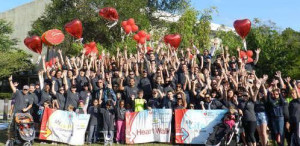 "We believe in giving back to the community we serve," writes Solstice's marketing director, Alissa Gavrilescu, in the nomination. "We not only take care of smiles; we help create them through our corporate philanthropic efforts."
In addition to the fundraising, the company donated dental plans to the walk's top fundraisers in gratitude for their effort and manned the "Show Us Your Solstice Smile" photo booth, giving away toothbrushes and oral health guides to participants.
The Solstice crew also partnered with Holy Cross Hospital to provide special "I walk for you" cards for walkers to fill with words of encouragement for Holy Cross cardiology patients.
Check out their upbeat video montage of the race and its surrounding events.
*****
Communitas Awards recognizes exceptional businesses, organizations and individuals that unselfishly give of themselves and their resources, as well as those that are changing how they do business to benefit their communities. Nominations can be submitted online at communitasawards.com.