While the winners for the 2014 AVA Digital Awards won't be announced until Feb. 1, we're showcasing select entries that stand out. Keep checking back to see if your work will be highlighted.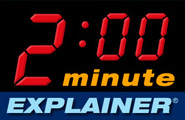 Business Information Graphics is a 25-year-old New York City-based company that has created a distinctive niche in advertising and marketing.  The agency pioneered graphic videos called the "2-Minute Explainer." In the past several years, many other companies have copied their format.
Business Information Graphics takes reams of information and compresses the facts, statistics, and interviews into a short video. Using graphics, a narrator, soundtrack, and sound effects, the video creatively delivers a succinct message to a targeted audience. "The Technology Gap and How to Bridge It" takes its cues from 1980 era video games.
*****