2012 Communitas Award Winner
Reliv Kalogris Foundation
Location:  Petite-Anse, Haiti
Business Type:  Nonprofit provides nutrition for those in need
Nomination Title:  Reliv Foundation Builds Home for Orphans in Haiti
Category:  Making A Difference
Sixty children orphaned by the January 2010 earthquake in central Haiti, are living in a new home courtesy of Reliv International's charitable arm, Reliv Kalogris Foundation.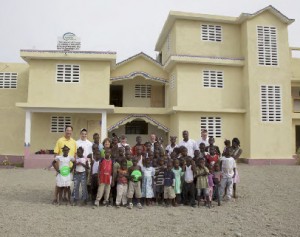 The Reliv Kalogris Foundation provided funds to build the children's home and is also providing free nutritional supplements to the residents. The home is built in the Petite-Anse neighborhood near Cap Haitien. The Reliv Foundation partnered with the Cathedral of Cap Haitien and a social welfare committee called "Nous et les autres" (meaning "We and the Others"). The social welfare committee has cared for indigent and impoverished children in the Cap Haitien area for 34 years. Prior to the earthquake last year, the committee served 20 children who are also moving into the new home. The home has the capacity to house 80 children. "The extraordinary generosity of Reliv distributors and employees makes it possible for the foundation to help malnourished children in Haiti and elsewhere," said R. Scott Montgomery, chairman of the Reliv Kalogris Foundation. "The Foundation provides free dietary supplements to 270 feeding programs in 10 countries," he added. In Haiti alone, the Foundation is currently nourishing over 10,000 children in 45 schools, orphanages and clinics.
The children's home is a stand-alone structure that has two dormitory-style wings on an upper floor over the fully furnished kitchen and two dining halls that can also serve as study rooms and recreation areas. The goal is to give these children a home-like atmosphere, provide education and job training for the older children, and supply nutritional supplements on a daily basis.
About the Reliv Kalogris Foundation
The Reliv Kalogris Foundation, founded in 1995, is named for the late Dr. Theodore "Ted" Kalogris, who created the nutritional formula what would become Reliv International's first product. You can get more information on the Foundation from Facebook or their website, www.relivkalogrisfoundation.org/US/EN/home.html.