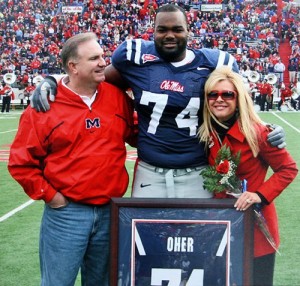 The spirit of the Communitas Awards was highlighted recently when Leigh Anne and Sean Tuohy — played by Sandra Bullock and Tim McGraw in the film The Blind Side — exhorted those in a Dallas audience to "get out of your comfort zone and make a difference." The TV report and article can accessed at
http://www.wfaa.com/news/local/Blind-Side-couple-inspires-Dallas-congregation-98719534.html
The Tuohys adopted an at risk young man and clothed, fed and educated him. The young man, Michael Oher, attended college and became a pro football player for the Baltimore Ravens. The film "The Blind Side" was adapted from a book by author Michael Lewis "The Blind Side: Evolution of a Game". Please visit www.communitasawards.com for printable nomination forms and information on how to nominate a deserving individual and/or business.