Gregg Ellman brings you tech reviews of the SanDisk Connect Wireless Stick, GE Bright Stik 60-watt replacement LED bulb and Sound Rise Plaid Freaq wireless desktop speaker/alarm clock.
SanDisk Connect Wireless Stick
A few years ago I thought so much of SanDisk wireless flash drive that I named it my coveted 2013 gadget of the year. To this day when I'm using it, someone asks what it is and when told, the response is always, "I gotta get one of those."
Now SanDisk has given the great product an upgrade with the launch of the SanDisk Connect Wireless Stick.
The wireless flash drive works with iOS and Android devices, along with Mac and Windows computers with the free SanDisk Connect app.
Once the app is ready, turn the flash drive on and make a wireless connection to it, just like you would to a WiFi network. It's worth mentioning here that after the app is downloaded you do not need an Internet connection for the flash drive to work.
After you make a connection, go to the SanDisk Connect app and you can choose whatever you loaded on the flash drive; videos, digital images, documents or music. You also have the option to make the flash drive password-protected.
It's that easy.
As for the new model, it's still the size of a typical flash drive, has a power button and an internal battery good for up to 4.5-hours, which charges from most any USB port.
While the original model had a slider to expose the USB port, the new one is more traditional with an end cap.
SanDisk said it went to a new design based on feedback gathered from the original wireless connect product. They "aimed to design a slim, simple and elegant device that could be extremely portable and easily accessed when plugged into a computer, while not blocking additional USB ports," according to a company representative.
The main difference from the old to the new is the storage along with a more modern look. The original had a microSD card slot, enabling unlimited expandable storage.
New is the capacity when purchased. SanDisk felt users weren't choosing to have multiple microSD cards so they eliminated the option.
Either old or new, the SanDisk wireless flash drive is an incredibly easy and inexpensive way to expand the storage capacity on a smartphone or tablet.
In my world, streaming movies while traveling has never been so easy.
Cost: $29.99-$99.99, available in 16, 32, 64 and 128GB capacities
Details: www.SanDisk.com
GE Bright Stik LED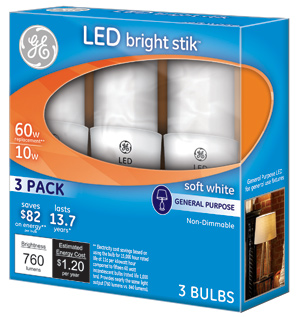 It's kind of crazy that the light bulb has been around for so long but the past few years have introduced a load of new designs and lighting features.
The latest I've seen is the reasonably priced GE Bright Stik 60-watt replacement LED bulb.
A three-pack of the non-dimmable bulbs typically costs around $10 and, according to GE, it should cost about 10 cents per month to operate based on three hours a day of use at the electricity rate of 11 cents per kWh of power. They have a lifetime rating of 15,000 hours, 13.7 years and give off 760 lumens, a measure of brightness.
These bugs have a different appearance from most others with a slender, slime, sleek design.
It was designed with a size of 4.25 in x 1.25 round to fit in more sockets and fixtures compared to general tradition purpose bulbs, which I found to be true right off.
While the body of the bulb is different, the standard screw-in connection is the same so there's no need to get new lamps to use the bulbs.
I'm not going to take out a color meter to test the lighting but I've been a believer in the LED lighting for a while and these new choices are great additions. The light they shine is great and you have your choice of soft white and daylight.
Details: www.GElighting.com
Sound Rise Plaid Freaq
Soundfreaq along with the Novogratz husband-and-wife design team have launched the limited edition Sound Rise Plaid Freaq.
The wireless desktop speaker/alarm clock (5.2 x 5.6 x 3.3-inches) has the features of the original Sound Rise along with a new design.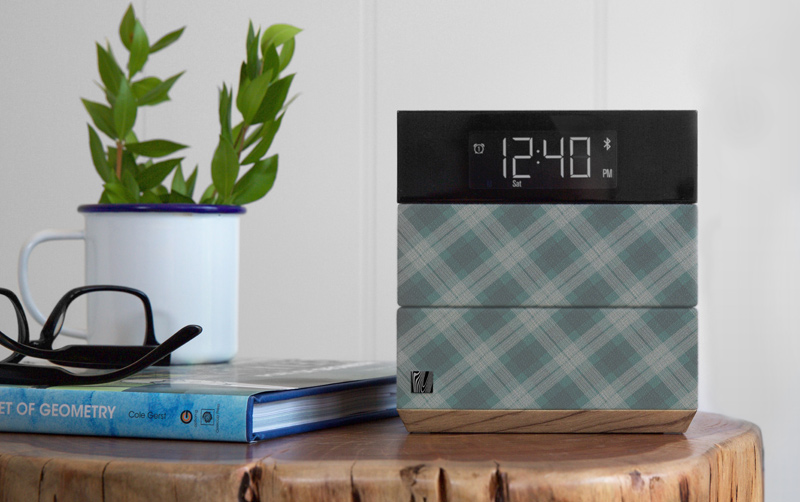 It's packed with features including Bluetooth 4.0 streaming, amazing sounding audio, an adjustable display (extra bright to total blackout), a line in 3.5 mm input port and a USB powered port for charging.
The dual alarm system features weekday and weekend settings, which also have the option for gradually increasing volume to help avoid that loud panic wakeup, which I've experienced.
On the outside is the new great looking plaid design giving it a modern look.
Cost: $99
Details: www.soundfreaq.com
Contact Gregg Ellman at greggellman@mac.com.
Follow him on Twitter: @greggellman
2015, Gregg Ellman.