By Gregg Ellman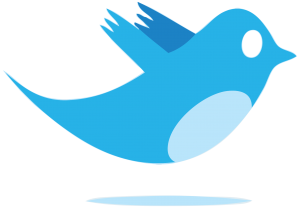 @greggellman
Tech reviews of the ThinkGeek Tactical Chef Apron, Grill Daddy, Glendale outdoor wireless Bluetooth speaker, Scosche boomBOTTLE H20 and Bracketron SmartLantern.
ThinkGeek Tactical Chef Apron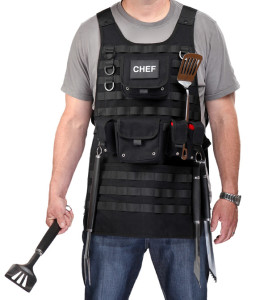 You'll be in full control of your 4th of July cookout while wearing the ThinkGeek Tactical Chef Apron.
It's designed with a MOLLE system (modular lightweight load-carry equipment, the same system used for the military) to hold all the tools in five built-in pouches.
ThinkGeek describes the apron as badass for outdoor chefs and a system for holding everything a grill sergeant needs. It's well made with solid stitching and 100 percent cotton fabric.
Once you load it with grilling utensils, spices, condiments and even a smartphone or a Bluetooth speaker, you'll be the commander of your bash.
There's also a removable Velcro chef patch on the front and back along with an adjustable side strap to fit most any size chef.
Cost: $29.99
Details: www.ThinkGeek.com
Grill Daddy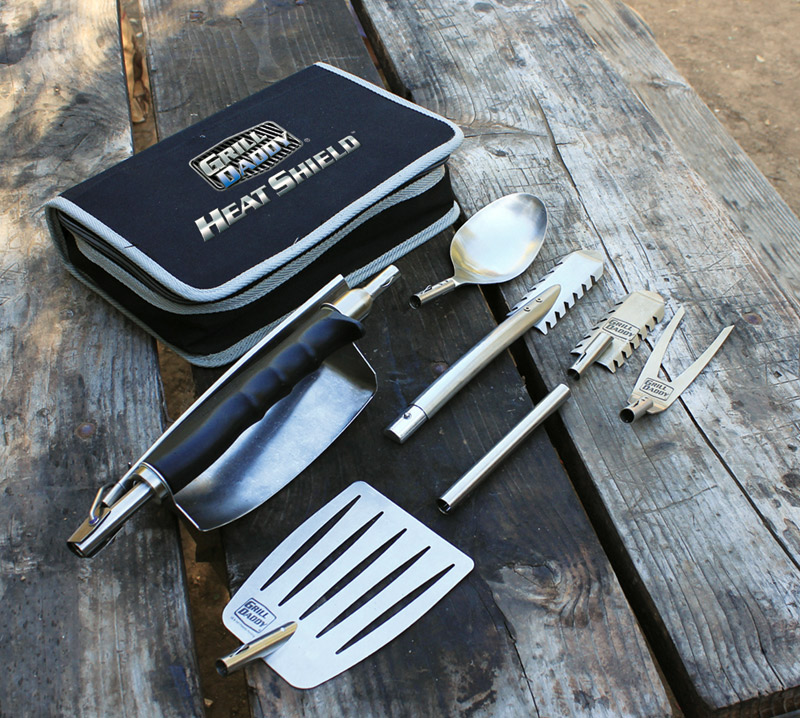 The Grill Daddy is a 6-in-1 heavy-duty stainless steal grill set for the backyard chef who cooks just about everything.
It's a complete system travel-ready in the included folding case.
The main feature is an ergonomically designed heat-shielding handle with a cleverly designed winging metal shield to protect your hand from the heat.
The shield pivots to protect your hand when reaching into the grill in any angle, since the shield is weighted and balanced.
The modular system lets you add any of the six different full-size grilling tools. They include a fork, handle extension, spatula, spoon, tong attachment and a tong jaw.
Everything is interchangeable, enabling grill nuts to form combinations such as a tong/fork or a spatula/spoon or just use each tool as needed.
Cost: $39.99
Details: www.BuyGrillDaddy.com
Glendale Outdoor Wireless Bluetooth Speaker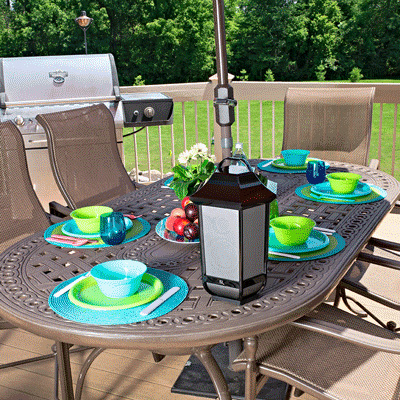 Acoustic Research's new Glendale outdoor wireless Bluetooth speaker is designed to blend into any outdoor environment.
When you first see the speaker, you might think it's a hanging outdoor light or even a bug zapper, but when you crank it up the secret is revealed.
Inside the attractive design is a midrange driver, tweeter and booming passive rear subwoofer, which combine to deliver 10 watts of sound.
And if you get two of them, they can both pair to the same media source for a wireless stereo sound that your neighbors will be sure to hear loud and clear.
An included AC adapter will power the speaker, and if you want to truly cut the cords, it will run off of 8-AA batteries for up to 12 hours of sound.
The Glendale is built with an IPX weather resistant case to withstand an unexpected rainfall.
Cost: $119.99
Details: www.acoustic-research.com
Scosche boomBOTTLE H20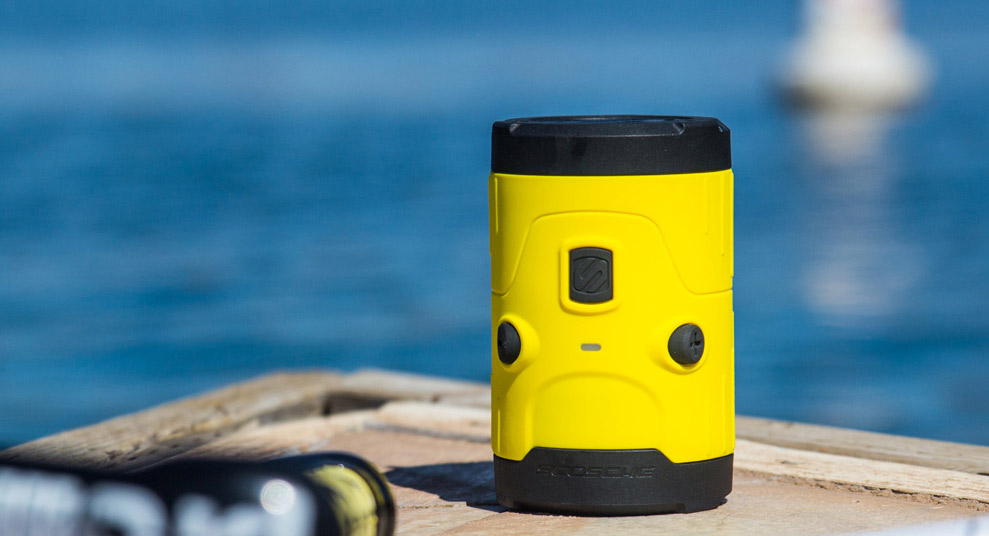 The durable Scosche boomBOTTLE H20 is built to play your music on land or poolside while taking a quick dip to cool off.
It's probably one of the most rugged Bluetooth (4.0) speakers I've seen. It's built with an IP67 waterproof and dust-proof rating, which enables it to float and not only get soaked or splashed but it can also be submerged in a 3.2 feet of water for up to 30 minutes.
Inside is a 50mm speaker and passive subwoofer for crystal clear sound at any volume. It measures 2.8 inches in diameter with a 4.5-inch length.
The internal rechargeable battery is good for about 8 hours and is charged with the included cable. A flashing red LED will let you know when the battery is about to fade.
A carabiner is attached to the side to help prevent the speaker from floating away.
Cost: $99.99
Details: www.Scosche.com
Bracketron SmartLantern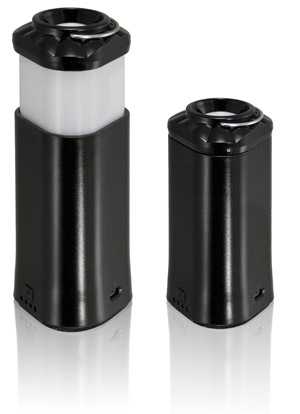 Bracketron SmartLantern is the perfect outdoor 3-in-1 gadget.
Packed into the hand-held device is a portable USB charger, lantern and flashlight making it perfect for everyday use or an untimely emergency.
Inside the device is a 7800Ah rechargeable battery. This powers the built-in 2.1A USB port for charging most portable electronic gadgets including cameras, cellphones and tablets.
If you need light, the battery will power up the flashlight or lantern illumination for up to 48 hours.
To switch from the lantern mode to flashlight, all you do is slide down the lantern globe for the more direct flashlight lighting.
It measures 3 7/8 x 1.75 inches and is built with an impact-resistant, fireproof housing.
Cost: $79.99
Details: www.bracketron.com
Contact Gregg Ellman at greggellman@mac.com.
Follow him on Twitter: @greggellman
2015, Gregg Ellman.