By Gregg Ellman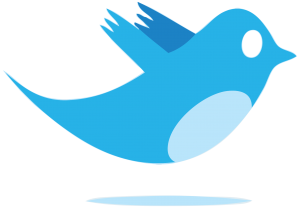 @greggellman
Tech product reviews of the SXories Weye Feye tool for DSLRs, Tylt VU wireless charging car mount and the BuQu Tech PowerArmour iPhone case.
SXories Weye Feye
The SXories Weye Feye is a small piece of hardware that makes a whole lot of work simple for DSLR photographers.
It connects to your digital camera and creates its own WiFi network so the camera can be fired wirelessly with a free app (iOS and Android) on a smartphone.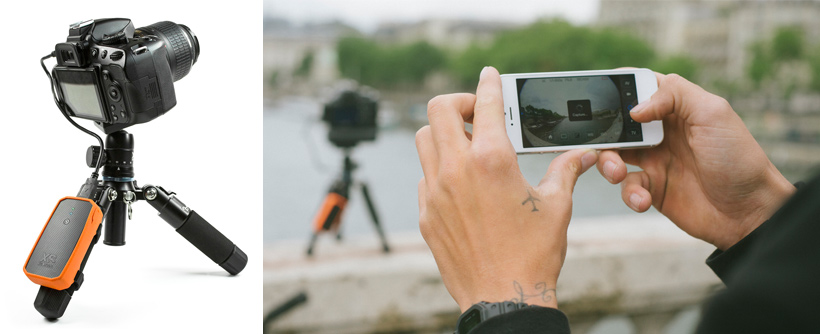 This is one of the few times I recommend reading the instructions, but don't let that scare you.
It's really simple and takes just a few minutes. Directions guide you through the steps of what should be connected, along with turning power on or off at the right time for proper connections.
It measures 3.2 x 1.7 x 0.6-inches, has a 2000mAh internal lithium polymer batter, which is good for up to 8 hours of use, and is charged via USB. If you didn't know what it was, you would think this is a pocket-sized Bluetooth speaker.
The WiFi range (802.11n) is rated at about 262 feet, which can vary, depending on conditions, line of sight and what's in between. Despite that, I got solid results in almost every distance.
I did have the WiFi drop a few times, so obviously I had to reconnect it. I can't say what caused that but I have had that issue with other WiFi devices.
Another great feature that make this stand out is that it has only 0.2 second latency, which is the time between when you press the app button to fire the camera and when it actually fires. If you're not familiar with anything to compare it to, I've tried other apps and they were longer than 0.2 seconds.
If you have your camera set up in a really remote situation, it even brings the live view off the camera and onto the app.
You'll also be able to change most of your settings (ISO, shutter speed, aperture, etc.) from the app itself. So if some unexpected clouds arrive or your subject moves faster or slower than expected, you'll be able to adjust everything right from the app.
Images are captured and saved on the smartphone in addition to the memory card in your camera. With the images in your smartphone, it now gives users the ability to share them instantly on social media.
Cost: $249.99
Details: www.weye-feye.com
Tylt VU Wireless Charging Car Mount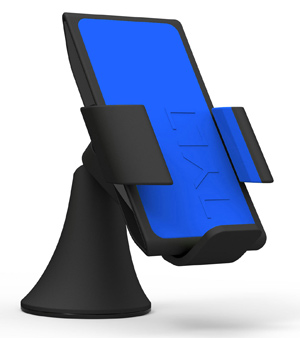 After seeing the Tylt VU wireless charging car mount in action, it made me think that I'm always so concerned about making everything in my home and office wireless that it really makes more sense to have your mobile charging wireless.
It only works with Qi compatible devices, which does not include every smartphone. Wishful thinking that in time it will.
The device is well made. A micro-gel succession cup keeps everything in place on most any solid surface in a vehicle, including dashboards and windshields.
To mount your phone (up to 6-inch displays), the holder has a button on the top to press, which moves the arms on the sides out. Just put your phone on the base and release the buttons to hold it in place.
To get your phone off, press the same button and grab it.
A 12 V car adapter is also included, which has an addition 1.3amp USB port for charging another device.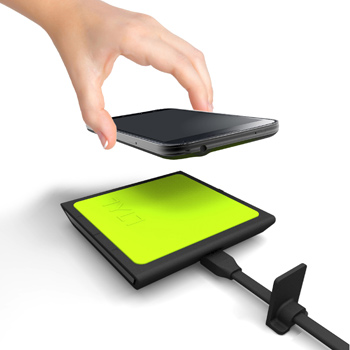 The Tylt VU Solo is another wireless charger for Qi charging phones. It gets its power from a powered microUSB you connect to the charger.
With Qi charging, it's critical that your device and the charger are aligned correctly. This one has a patent pending mobile phone alignment ledge for the proper connection.
It's that easy.
Check the Tylt site for a complete list of compatible phones.
Cost: $79.99 for the car mount, $39.99 for the VU Solo
Details: www.tylt.com
BuQu Tech PowerArmour iPhone Case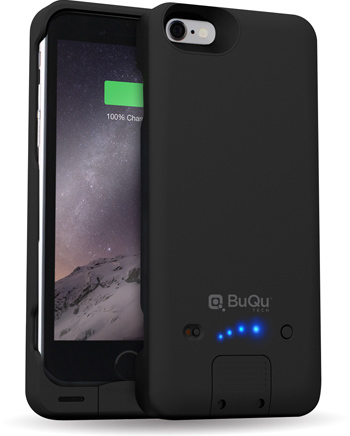 If you have an iPhone 6 and are like me and need a few charges a day, the BuQu Tech PowerArmour case is a must-have.
Inside the case is a 2,800mAh battery, which the company states is the first Apple certified "Made for iPhone" battery case.
It's built with a unibody exterior for protection and unlike many other powered battery cases, it's not like carrying a brick in your pocket.
To charge the battery, just connect the included microUSB cable.
Cost: $79.99 
Details: www.buqutech.com
Contact Gregg Ellman at greggellman@mac.com.
Follow him on Twitter: @greggellman
2015, Gregg Ellman.