By Gregg Ellman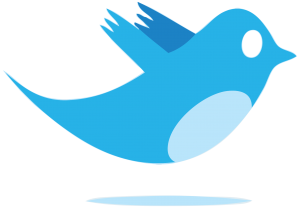 @greggellman
Tech reviews of the Iris Smart Home electronic pet door, Oral-B PRO 5000 SmartSeries toothbrush, Boostcase lipstick charging accessory and the Child Separation Alarm.
Iris Smart Home Electronic Pet Door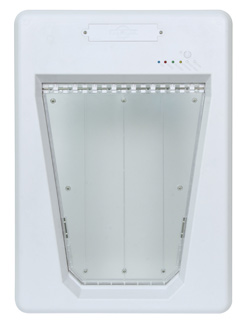 Lowe's has many products for home safety in their Iris Smart Home Solution series, launched in 2012, including something for your four-legged family member.
The electronic pet door (doggie door) is part of the single-user interface, where you monitor and control just about everything you want.
This includes the pet door that stays locked until your pet wants to do its thing. There's a small electronic sensor you put on pet collars and then once he or she approaches the door, the alarm on the pet door shuts off instantly.
After the business is completed your friend can re-approach the pet door where the alarm again shuts off for them to enter. Once they either enter or leave and the door comes to a rest, the alarm is back on.
In addition the door offers you the prevent other pets from entering the electronic pet door since they will not have the sensor to unlock the door.
The door can be built into a wall or door (fits doors 1-1/2 to 2 inches thick) and measures 16 x 11 inches.
An electronic schedule can be set to allow the door to be opened during hours you want for up to five pets. There are three modes to choose from: automatic, locked and unlocked. You can also monitor your pets' ins and outs.
Works on four D-cell batteries (not included).
Cost: $220
Details: www.Lowes.com
Oral-B PRO 5000 SmartSeries Toothbrush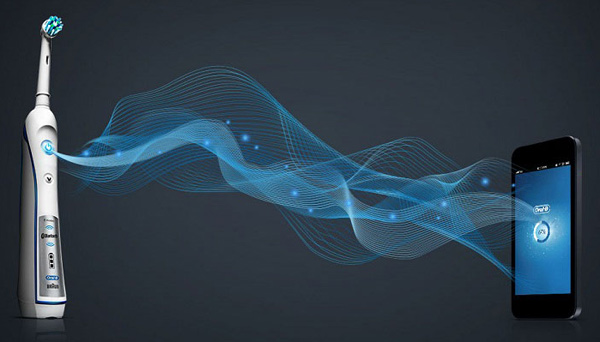 Believe it or not you can now include brushing your teeth as something you can do with an app on your smartphone.
Oral-B PRO 5000 SmartSeries called itself the world's first available interactive electric toothbrush with Bluetooth (4.0) connectivity.
I will say, as a longtime Oral-B electric toothbrush user, this new one is an instant winner.
After downloading the free app and pairing your toothbrush with it, you're set to go.
The app has you brush for the required and dentist-recommended 2 minutes per brush but also adds extra time areas that needed it.
As you brush a graphic on your smartphone shows you the time and the area you need to be brushing in to ensure equal cleaning in each quadrant of the mouth. Of course a "spit" is needed now and then.
There's also a pressure sensor to activate when you are brushing too hard, along with five different cleaning modes: daily cleaning, deep clean, whitening, gum care and for sensitive teeth and gums.
After your few minutes are complete, the program asks you a few questions including if you flossed, which I chose to not do at the demonstration.
But I was happy to find out that they make a brush with flossing built into the brush. While I didn't try it, I sure will in the future.
A nice travel case is included to protect the brush and charger.
Cost: $111.99
Details: www.OralB.com
Boostcase Lipstick Charging Accessory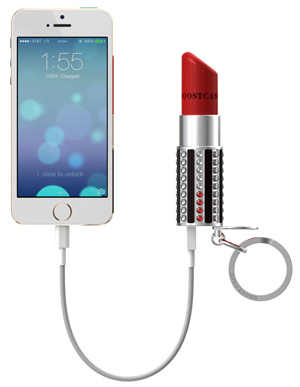 One of the lasted charging accessories from Boostcase allows you to charge a smartphone or any portable USB accessory with lipstick, or at least what appears to be just that.
The lipstick-looking battery ($100) has 3,000mAh of power, easily enough to recharge most device on the go with your own charging cable.
The company also has a Crocodile iPhone 6/6+ battery case on the horizon, which will be price in the $1,000 area.
It should be available in the first quarter of 2015 and also offers choices of exotic skins of string rays, pythons or lizards.
The cases come in two pieces, one with the cover, the other with the back-sided slim battery.
Options: iPhone 6 in options of 2200 or 2700 mAh, iPhone 6 plus is available with 2700 or 4500 mAh
Details: www.Boostcase.com
Child Separation Alarm
It's rare for a summer to go by without news breaking of a baby locked in a hot car.
Statistics supplied by Voxx in a recent press release states, "From 1998-2013 there have been over 600 incidents where a child has died from heat stroke after being left in a hot motor vehicle."
Now the company has a solution for that with a product due out this summer called Child Separation Alarm.
There's not a lot of setup to Child Separation Alarm, nothing you can't do yourself in just a few minutes.
A sensor is placed between the hard surface of the car seat and the seat pad. Then a key fob is attached to your keychain, which makes a Bluetooth connection with the sensor.
The key fob sounds an alarm once it is removed from the vehicle and you walk away with the baby still in the car seat, using an automatic weigh-sensing system to know when the baby has been removed or not.
Child Separation Alarm comes with one keychain alarm, but you can add up to three additional keychain alarms with the system.
A text alert can also be programed to alert someone about the incident. For example the baby's mother can be texted when a baby sitter leaves the baby in the car.
The Baby on Board system is expected out this summer.
Expected Cost: $59.99
Details: www.voxxelectronics.com