By Gregg Ellman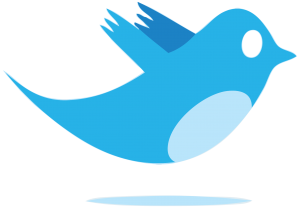 @greggellman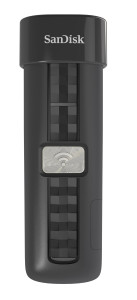 My 2013 gadget of the year can easily be classified as simply what I like best, since the judging committee consists of me.
It would be all too easy to name the latest iPhone or iPad the winner, but let me also say as I did in my recent review of the Microsoft Surface that I think it is a great tablet and came in a close second in the voting.
Without a drum roll I've chosen the SanDisk Wireless Flash Drive as my 2013 McClatchy Newspapers gadget of the year.
The main reason I have selected it is it's a really useful device when you combine it with all the other gadgets we use in our life, from smartphones to tablets to computers.
It's available in capacities of 16GB ($49.99) and 32GB ($59.99) and works just like any other USB flash drive.
But it's far from ending there.
Hidden on the end of the storage device is a little slot that opens to reveal a microsSD memory card. The slot enables your storage media to be limited to however many extra memory cards you choose to have.
The Sandisk wireless flash drive works with the  iPhone, iPad, iPod touch, Kindle Fire and Android devices, as well as PC and Mac computers. Since many of these devices do not have a USB port (the Surface does), you'll need to get the free SanDisk Connect app from your device's store.
Once it's downloaded it takes only a few seconds to make a wireless connection to the drive. You now have access to whatever you stored on it: movies, music, photos or documents.
It's that easy. (Other steps you must take include turning it on with the front-facing button and loading your content, etc.)
This gives you extra storage on the go without having to make a wireless internet connection or hooking up a USB drive with a cable.
The Sandisk wireless drive charges via USB and is good for about 4 hours of streaming.

The iBitz Unity from GeoPalz is a wireless device to monitor your family's health.
It's a small device you clip onto your waist, or wherever you want, to track your step count, the distance you have gone and even how many calories you burned.

Just download the free iBitz Unity app and connect it to your compatible iOS device running iOS 6 or higher. The app will read the your results for up to 30 days.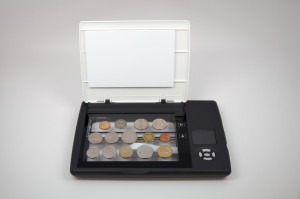 Winter is a good time to have the new Doxie Flip flatbed scanner.
It's battery powered and makes scanning easier than ever from anywhere. For the most part, once you put in the four AA batteries (included) and turn it on, you're ready to go.
Scans up to 4 x 6-inches and 600 dpi are stored directly onto a SD memory card (included), which fits into the card slot on the side.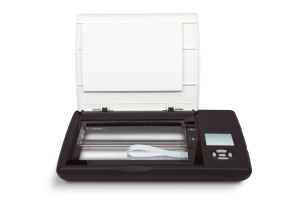 A scanner like this is ideal for easily digitizing the boxes of photos many of us have tucked away in a closet. It's also ideal for notes, coins or whatever you wanted entered into the digital world.
It takes about 7 seconds per scan in full color at 300dpi. The scanner measures 10.3 x 6.5 x 1.3-inches and weights a little more then a pound.
www.getDoxie.com $149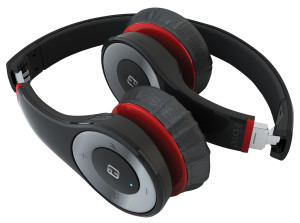 iHome's new iB85 wireless (Bluetooth) headphones are a solid over-the-head speaker set with comfortable padded ear cups.
They are made with an adjustable and folding headband along with the padded ear cups in a black, red and silver design.
You'll get about 12 hours of listening before they need a USB charge with the included charging cable.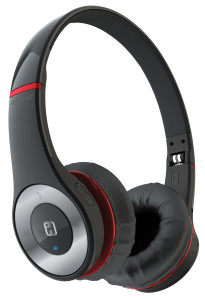 Each speaker has a 30mm driver with noise-isolating cushions.
Just pair up your device and start listening. They come along with a travel pouch.
www.iHomeAudio.com $149.99
Contact Gregg Ellman at greggellman@mac.com.
Follow him on Twitter: @greggellman.
2013, Gregg Ellman.