By Gregg Ellman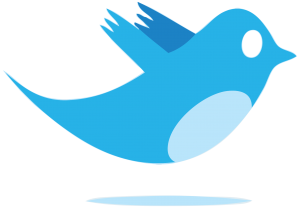 @greggellman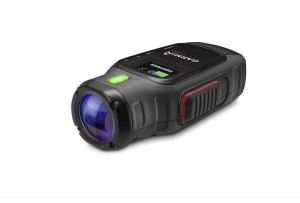 Garmin has entered the field of rugged action photography cameras with the recent launch of the VIRB HD ($299.99).
The camera is built with an aerodynamic design in a rugged waterproof housing, enabling users to run the camera without purchasing extra housings for extreme weather conditions.
The case has an IPX-7 waterproof rating enabling it to withstand a depth of one meter of water for up to 30 minutes, which Garmin describes as "accidental immersion."
Using it is simple as any camera I've seen. Move an external sliding button forward and the camera is recording. Video's are captured in formats up to 1080p HD and a 1.4-inch Chroma color display helps in composing your recordings or for playback.
Built-in digital image stabilization helps you get still footage by eliminating some of the camera shake.
If you want still photos, the VIRB can take 16 megapixel images, even while the video is recording. Both formats are stored on your microSD memory card. Still image features include time lapse and burst modes.
The features of the compact camera seem, endless including a 2000mAh Li-ion battery good for up to three hours of HD recording, ports include HDMI output, USB 2.0 and an internal microphone.
The VIRB weights just 1.4 pounds and measures about 1.25 x x 2 x 4.3-inches.
If underwater photography is your desire, a dive case is available for $39.99.
A variety of accessories are available including cables, adapters, mounts and extra batteries.
Garmin has an additional model in the series, the VIRB Elite ($399.99). It has all the features of the VIRB but adds WiFi and GPS features.
And finally Garmin has recently released VIRB Edit, a a free desktop software for Mac or PC systems. It allows you to edit and share video footage recorded with the VIRB cameras.
The download is available at the Garmin site.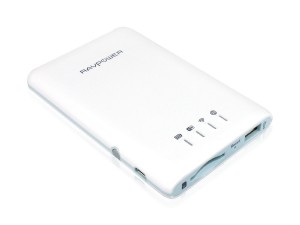 I'm a big fan of multi-functional devices so it's a no brainer I would be a fan of the RAVPower (RP-WD01) FileHub.
The pocket-sized device (4.6 x x 3.11 x .55-inches, 4.2 oz) has a 3000mAh battery for on-the-go power and can be set up as a WiFi or hotspot for setting up a network to share videos, music, photos or documents with multiple devices.
A built-in SD card reader lets you store your digital files on the memory cards and access the contents on an smartphone, tablet or computer via WiFi.
Flash drives or bigger external hard drives can be connected through the built-in USB port.
Setting up each device is different but the step-by-step instructions make it problem-free. I would mostly use a device like this for my iPad, since they (Apple) doesn't allow directly plugging in expandable media.
This allows those or any devices to have never-ending expandable media, which in my case gives me access to my full movie and TV show library.
Up to five devices can connect simultaneously and LED status lights on the front show (l-r) batter level, read/write, WiFi level and WAN.
www.ravpower.com $44.99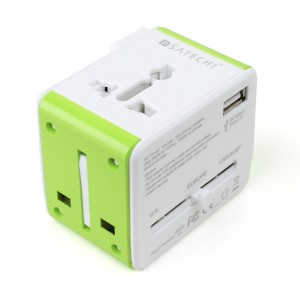 Another multi-functional device that takes up little room in your travel bag is the Satechi Smart Travel Router & Adapter.
It works in over 150 countries, according to its website, and I'm not about to test that number.
A sliding lever lets you set it for U.K., Europe or USA/Australia, which sets the moving prongs for the wall outlets in that specific area.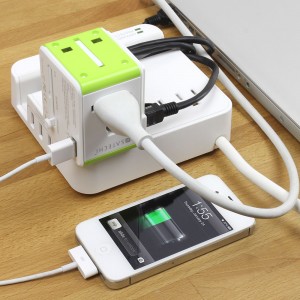 There is also a port for USB charging, which can be used simultaneously with the AC power connection for charging two devices at once.
The other port WAN/LAN Ethernet connection to use it as a router, an access point or even connecting it to a Smart TV or video game.
It measures 2.5 x 2.25 x 1.8-inches and weighs 4.9 ounces.
www.satechi.net $44.99
Contact Gregg Ellman at greggellman@mac.com.
Follow him on Twitter: @greggellman.
2013, Gregg Ellman.