By Gregg Ellman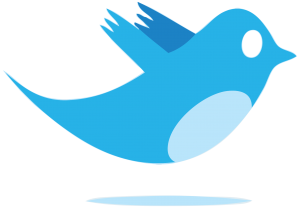 @greggellman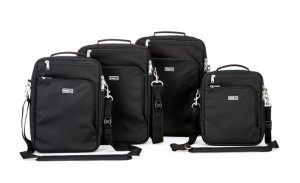 Think Tank Photo, the premier camera, computer and accessory storage maker has launched a few new product lines aimed at Apple users.
I'll be upfront and come clean that I've been a Think Tank fan and user since the company launched about nine years ago.
Right out of the gate it was clear that all Think Tank products were well-made with durable and water-resistant fabric, pristine stitching, strong hardware and zippers able to withstand a lifetime of opening and closing.
The top-notch craftsmanship continues with the My 2nd Brain line of four computer and tablet bags, all created specifically for Apple laptops and their necessary accessories.
I tried the 15-inch model designed for the MacBook Pro (10.2 x 14.8 x 2.6-inches, $99.75) and it worked perfectly. My computer fit in the main padded compartment and all my accessories packed inside the pouches and pockets.
This included my power adapter, media cards, earbuds, MiFi and a few other USB cords. A separate zippered storage area on the front is called a "Plush Pouch" and it made a perfect home for my iPhone since I was testing this bag on a recent flight.
An additional outside compartment was home to my iPad and its charging cable, pens, pencils, business cards and other accessories.
Another new one is the My 2nd Brain Tablet bag ($75.75), which accommodates any iPad along with an iPhone along with the accompanying accessories and more in the mesh pouches and pockets.
These new products all include a padded and adjustable shoulder strap.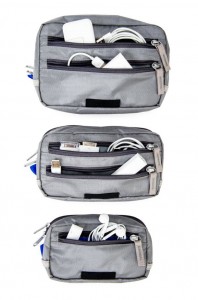 Any Think Tank Product can be used with the new Powerhouse organizer cases, which come in three models; Powerhouse Tablet, Air and Pro.
Using the middle-sized Air pouch (7.5" W x 3.9" H x 1.8-inches), I kept all my travel cords in one place, making them instantly accessible
The small cases are water resistant, have a main zippered compartment, with a clear front and a divider. There's also two other zippered compartments, one with a pair of pouches inside.
www.ThinkTankPhoto.com bags available black, harbor blue, and mist green, while the pouch comes in silver.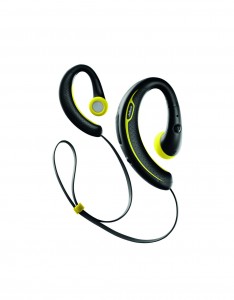 The Jabra Sport Wireless+ is a durable wireless (Bluetooth V3.0) earbud headset designed for athletes.
Three sizes of eargels are included to help you the perfect fit for the active lifestyle. Also included are a newly designed fit clip, carrying pouch and a USB charging cable.
The headphones can really be considered an all-in-one with wireless functions, built-in FM radio and an Omni Directional microphone for handsfree calling.
They are built to withstand US military grade rain (1/2 gallon per minute), shock and dust protection.
Since they are Bluetooth, they have a tiny rechargeable battery inside, which has a longer life than older models. This one is rated by Jabra to have up to 4 hours of talk time along with 120 hours of standby time.
As for how they perform, the middle-sized eargel kept them locked in place and they pumped out great sound after being paired with my iPhone.
I never had the chance to get rained on to test out the durability but knowing Jabra products well, I have no doubt they would be a good as advertised.
www.Jabra.com $99.95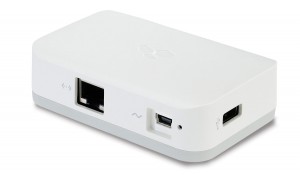 The meDrive file manager is another one of those accessories iPhone and iPad users have been waiting for, especially since those devices do not have a card slot for expandable media.
Just download the free meDrive app from the Apple App store and connect the meDrive to your existing router through the built-in Ethernet port.
Then make sure you install your external hard drive (not included), which has your digital content stored on the same network. If you have a USB external hard drive that does not require AC power, it can be plugged directly into the meDrive. Either way will work fine and simple to setup.
From there the app allows you to access the USB storage and view photos, movies and documents created with any of the apps within the iWork family.
All the content can be shared in this centralized location and viewed by multiple devices simultaneously. A password can be setup to protect the contents from the outside world.
The hockey-puck sized meDrive is powered via USB from any source.
www.kanexlive.com $49.99
Contact Gregg Ellman at greggellman@mac.com.
Follow him on Twitter: @greggellman.
2013, Gregg Ellman.