We're showcasing some of the most innovative and creative AVA Digital Awards entries. The AVA Digital Awards is one of the most highly regarded digital competitions in the world. Enter your best work for a chance at third-party recognition.
Organization: Mirrored Media
Location: Santa Monica, CA
Title of Entry: "Road to Coachella"
Category: 2c. Digital Marketing – Marketing, Digital – Digital Marketing Campaign
Music, culture, talent, BMW.
Mirrored Media of Los Angeles blended these elements together to create an integrated marketing campaign to promote the BMW brand. Called "The Road to Coachella," the campaign followed composer Hans Zimmer and celebrity friends as they traveled in BMW vehicles from L.A. to Indio, California where Zimmer headlined Coachella Music Festival.
The campaign featured original music that was composed for the road trip and gave fans an inside look at BMW's cars and the festival. The campaign was an overwhelming success, with the #RoadtoCoachella hashtag and video reaching more than 2,500 mentions, 33 million impressions, and 1 million views.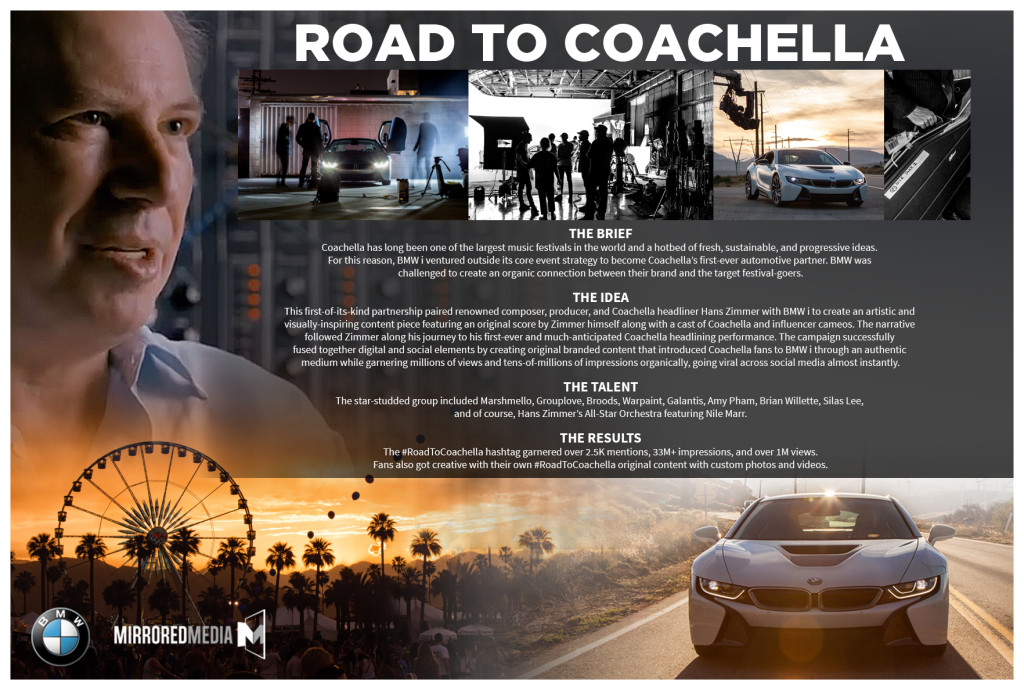 The 2018 AVA Digital Awards first deadline is December 14. Enter now.