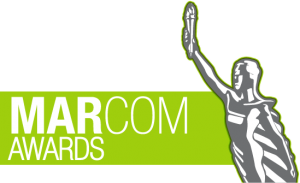 The results of the 2015 MarCom Awards have been announced. After you're done with your celebratory dance, what's next? Don't just sit on this international recognition – shout your accomplishment from the rooftops so everyone from clients to peers and journalists are aware of your top-notch work.
To help you get started with your promotion, here are a few ideas that hopefully won't end with your neighbors calling the cops about noisy office neighbors.
1. Make space on the company website & email newsletters
Carve out prominent space on your website to communicate your latest accomplishment. Even a small space on the homepage showcasing third-party recognition can give your team an instant credibility boost with potential and current clients. The same applies to email newsletters.
Design pros can take readymade graphics from our library – available in JPG, PNG, PDF and EPS formats – and create customized banners for a polished, personalized look.
If you're not a designer, fear not. We've got you covered, too. All the graphics look grand out of the box.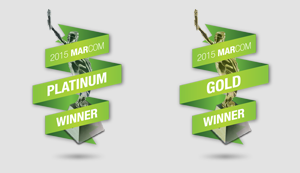 2. Send a press release
Not only can you publish a press release or blog article online, but many local trade publications and business publications have an awards or current events section that would be a perfect spot for your MarCom Awards announcement.
Use information from our press release about this year's competition here.
3. Broadcast on social media
Leverage you audiences on whatever platforms you use – Twitter, LinkedIn, Facebook, Google+, Pinterest…the list goes on.
If some of your team members aren't the self-congratulatory type, then a nice thank-you tweet or status update is always a nice way to show your gratitude and communicate their wonderful work.
Include us in the tweet or plus posting, and we'll be sure to share or +1. If you'd rather use a hashtag, include #MarComAwards in your message. Soon, we'll be highlighting creative ways companies are promoting their accomplishments.
Since we're talking about social media, don't forget to update any platforms that allow for longer bios like Facebook and LinkedIn. You're an award-winning firm – make sure everyone knows it! Also, staff can add these awards to their personal profiles.
What else?
You can also get the word out with these ideas:
Showcase your statuette in your waiting area
Photograph your team with the certificate or statuette. Enhance a normal pic and turn it into an animated GIF for even more fun.
Revisit the award-winning work online and add a line about how it won a 2015. MarCom Award. Ex. Add the line to the description of a YouTube video.
Create a "Behind the Scenes" video or article that explains how your team creates award-winning work.
Highlight the honor internally to boost morale, whether that's through a break room bulletin board or internal newsletter.
For winner certificates, free graphic downloads, the official press release and statuette store, visit store.marcomawards.com.
What are you doing to publicize your MarCom Awards reconigition? Make sure you let us know because soon we'll be creating an article that highlights creative ways professionals are promoting their honors. 
Use the hashtag #MarComAwards on Twitter or Google+ or send us an email at info@marcomawards.com.