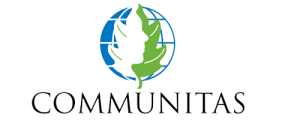 Winner: Kansas City University of Medicine and Biosciences
Location: Kansas City, MO
Business Type: Post Graduate Education
Nomination Title: We Care Community Service
Category: Company Sponsored Volunteer Project
NEW MED STUDENTS INTRODUCED TO COMMUNITY THROUGH "WE CARE" COMMUNITY SERVICE DAY
At most schools, orientation is a chance to get familiar with a new setting, make some new friends and perhaps engage in social time. At the Kansas City University of Medicine-College of Osteopathic Medicine, you get all that and a chance to do something for your new community at the same time.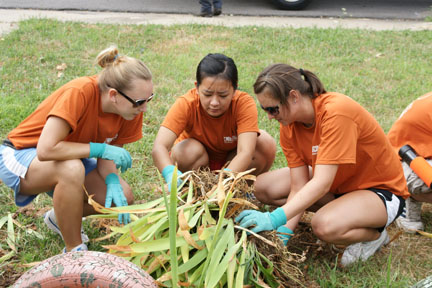 Incoming medical students get introduced to their new community through a one-day, citywide community service project in the neighborhood surrounding the campus and beyond. During their orientation on Wednesday, August 3, 2011, all 255 new students participated in the University's 14th annual "We Care" Community Service Day.
Students, faculty and staff joined forces to partner with 10 area non-profit organizations at 13 different project sites benefiting lower-income residents of Kansas City, primarily those living within the Northeast Neighborhood where the University is located. Students, faculty and staff served more than 1,000 hours in this single half-day effort to benefit those in need in Kansas City, Mo.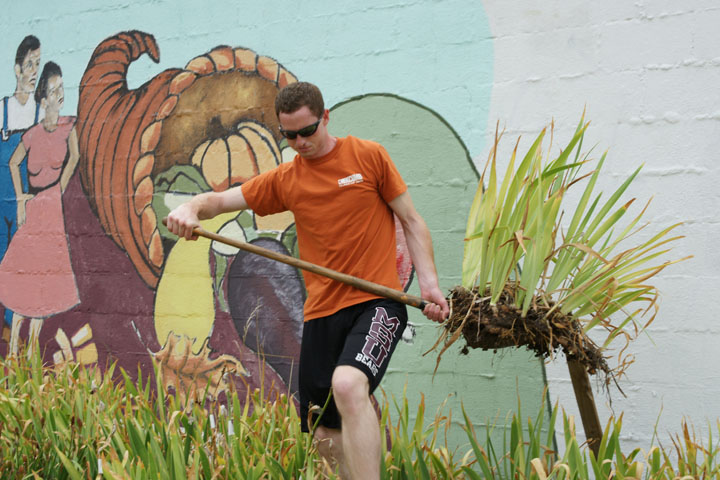 According to Sara Selkirk, executive director of community and student affairs for the University, through this annual event the University introduces new students to the community and to the University's emphasis on service. "Medical school is only the beginning of their commitment to a career of service," Selkirk said. "We believe it is important to place emphasis on the aspect of caring for people and community even before a student attends their first class."
Community Service Day projects included a variety of tasks, ranging from sorting and repackaging food at a local community food bank, building closets at a women's shelter, tutoring children and adults in the urban core, and assisting with beautification projects throughout the historic Northeast neighborhood of Kansas City.