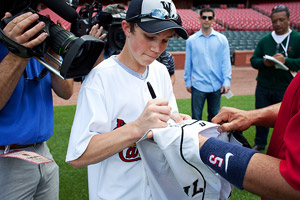 St. Louis Cardinals' slugger Albert Pujols recently reflected the spirit of the Communitas Awards when he hosted a young fan and cancer survivor at Busch Stadium who wanted to meet his hero after overcoming the challenges of chemotherapy. In conjunction with the Make-A-Wish foundation, ESPN's "My Wish" series present the story of Jacob Trammell, whose cancer and subsequent chemotherapy treatment caused him to question his will to live. Jacob's one wish was to meet the Cardinals first baseman, and the long ball basher gave Jacobs a surprise of his own. We invite you to access the link below and view this moving story about young Jacob, and his unforgettable encounter with Albert Pujols. The link also provides a Q&A with Jacob's mother, Debbie Trammell, who discussed the highlights of her son's My Wish experience with ESPN.com.
http://sports.espn.go.com/espn/features/mywish/news/story?id=5367335
ESPN SportsCenter's series titled "My Wish" is a collaborative effort with the Make-A-Wish Foundation that chronicles the granting of unique sports-related wishes for five children. Each experience will be featured on SportsCenter. Please visit www.communitasawards.com for printable nomination forms and information on how to nominate a deserving individual and/or business. We are accepting nominations as they arrive.