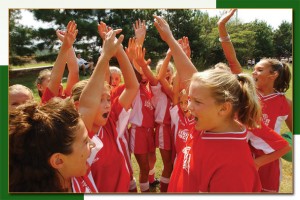 Ed Dalheim, Executive Director for Arlington-based Association of Marketing and Communication Professionals (AMCP), has been named the Volunteer of the Year for 2009 by the YMCA of Arlington, Texas  (http://www.ymca-arlington.org/). This marks the 2nd time in three years that Mr. Dalheim has received the prestigious award, which recognizes strong volunteer commitment and dedication to the YMCA's mission.
Mr. Dalheim serves as the chairperson for the Y's marketing committee, is a member of the Board of Director's executive committee and is a coach on a Miracle League baseball team. He recently produced a DVD presentation entitled "It's My Y" that features numerous community and business leaders telling the story of how the organization's staff, volunteers, services and programs serve the community and its citizens.
Mr. Dalheim is a longtime resident of Arlington. He is a former television reporter, political consultant and founder of Dalheim Communications, a leading marketing and communications firm in the Dallas-Fort Worth area.
"It is very important to everyone associated with AMCP that we give back to the community. Since our offices are located in Arlington, and the YMCA is the city's largest social services organization, we have made the Y our top priority," said Mr. Dalheim. "The Y is far more than a workout facility. It is the embodiment of a community spirit that has residents, educators, clergy, social service organizations, law enforcement and political leaders working together for a common goal."
No one is ever turned away from the Y due to physical, social or financial limitations. Over 16 hundred children and adults receive financial aid from the Arlington Y each year. Over one-fourth of childcare participants receive aid. Last year, volunteers through the Strong Kids campaign raised more than $400,000 to cover those expenses.