Cool New Gadgets 05.28.12
By Gregg Ellman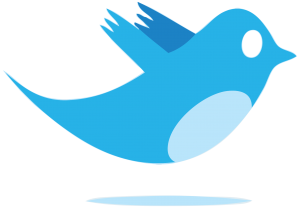 @greggellman.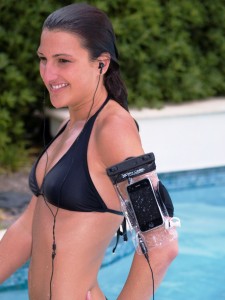 Summer is here so it's time to take your portable electronic gadgets for a swim _ but only if you include any of the following accessories to make the device waterproof or water resistant.
DryCASE has a full combination to take your cell phone camera or MP3 player in the water up to 100 feet deep with sound.
Once your slip your device into the see-through plastic, lock the pair of clamps to keep it intact. Then take the air out of the case with the included pump, put on the safety cap and let it sit a recommended 10 minutes to ensure it remains   vacuumed air tight.
After the air is removed the  seal keeps your device and any touchscreen controls or buttons fully accessible.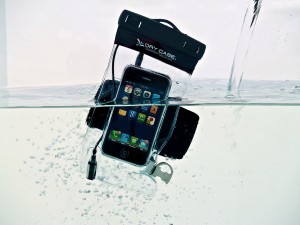 DryBUDS SPORT Waterproof Earbuds & Microphone are built with an over-ear clip to make a perfect companion for hearing any audio being played and are submersible up to 10-feet.
They plug into a pass-through headphone port built into the case.
I see the microphone being a much better use on land during a storm instead of opening my mouth underwater for an extended conversation.
Three sizes of ear buds and a lanyard are included; the newest version of the headphones even has a waterproof microphone, obviously for using above water.
www.DryCase.com DryCASE $39.99, DryBUDS $39.99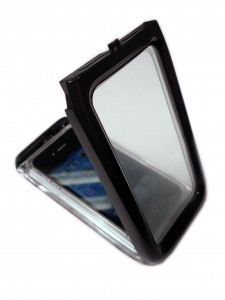 Several companies have protective cases designed specifically for the iPhone 4/4S for use in different weather conditions as well as for normal day-to-day use.
The ECO MarineCase from Keystone is rain, snow and sand proof and can be taken in water up to 20 feet deep.
Headphones aren't included but any waterproof headphones with a standard headphone connection can be combined with this or any other iPhone-specific case.
It's made with a clear protective silicon cover for full touchscreen functionality and is advertised as a shock, sand and splash proof accessory to your priceless iPhone.
www.concordkeystone.com $39.99
LifeProof's  Let's Go-themed iPhone cases are sold (separately) with a belt clip or a bike and bar mount for iPhone 4/4S recreation use.
Each can also act as an individual case without the mounts but will provide protection from water, dirt, snow and shock.
Just as LifeProof advertises, "Wherever you go, Whatever you do" they have the accessory for you.
For a swim, the case has been tested to be waterproof up to 6.6 -feet.
The LifeProof iPhone case ($79.99) is incredibly durable as a freestanding everyday case combined with the belt clip ($29.99).
For adventurous bike warriors, you'll need the bike and bar mount ($39.99).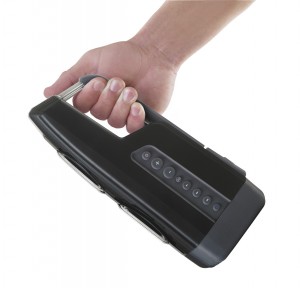 While each of these devices have been tested by their respective companies to ensure they work, they still need your attention to make sure instructions are followed since they will not cover your personal device in the event of failure.
Dunking any of these enclosures in a sink of water would be a great first step.
The The G-Project G-Go wireless Bluetooth speaker from Life Lab International is water-resistant and makes a great poolside addition.
Four AA batteries are all you need to power it so it's portable and nothing to worry about when that afternoon thunderstorm hits. A set of fresh batteries can give you up to 8 ours of listening but that can vary depending on your volume levels.
It has a carrying handle so you can take it where you want; hang it on a fence even or even take your tunes in the shower.
Keep in mind, this speaker is water resistant so you don't want it submerged or exposed to direct showering hits of water. The box does have a warning that it's designed to withstand water splashing from all angles but not prolonged, high pressure or submerged into water.
The sound is decent and works great in a backyard, just like I'm using it.
In addition to the wireless Bluetooth connection, it has an audio line-in port to connect non-Bluetooth devices along with a USB port for charging other USB compatible devices (cables not included).
http://enterg-project.com  available in three colors – back, white, and metallic blue $69.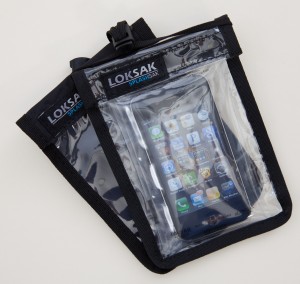 A very late addition to this waterproof gadget column are LOKSAK's aLOKSAK water and weatherproof bags for phones, tablets, cameras or anything that will fit in them.
They come in just about every size for any portable gadget.
While they aren't made for specific devices, I challenged myself to find a portable electronic gadget that wouldn't fit into one of them and they won. This includes iPads, cell phones, MP3 players and digital cameras.
You must first consider if it's that important to have your device in a wet or bad weather environment and if you do, these are for you. The first place that comes to mind where these would be outstanding is a beach, since sand is an electronics killer.
Specifically, the re-sealable bags have what they call a hermetic seal that translates to no water, dirt, dust, sand or anything penetrating the contents with this closure.
A company representative even sent on a note that liquid can be safely stored in the bags for travel.
www.loksak.com Pricing starts at $6.49 and goes up depending on the bags chosen.
Contact Gregg Ellman at greggellman@mac.com.
Follow him on Twitter: @greggellman.
2012, Gregg Ellman.
1 Comment
Gadgets are one of the best and fast in communication media and also more sensitive too. But this is really cool and amazing water poof bags and very safe for all gadgets. Thanks for sharing Gregg!