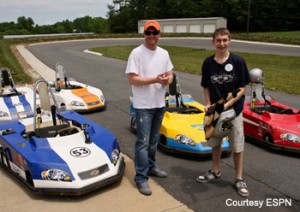 The spirit of the Communitas Awards was recently underscored by NASCAR driver Dale Earnhardt, Jr., who made the wish of a lifetime come true for a 15-year old fan who is battling a kidney disease. You can read the heart-warming story — the 200th Make-A-Wish appearance by Dale, Jr. — by accessing this link:
http://sports.yahoo.com/nascar/blog/from_the_marbles/post/Dale-Earnhardt-Jr-grants-wish-of-a-kid-s-lifeti?urn=nascar,256781.
The story details the meeting between the two, which is part of SportCenter's "My Wish" series (a collaboration between ESPN and Make-A-Wish Foundation). Please visit www.communitasawards.com for printable nomination forms and information on how to nominate a deserving individual and/or business. The deadline for nominations is August 2, 2010.